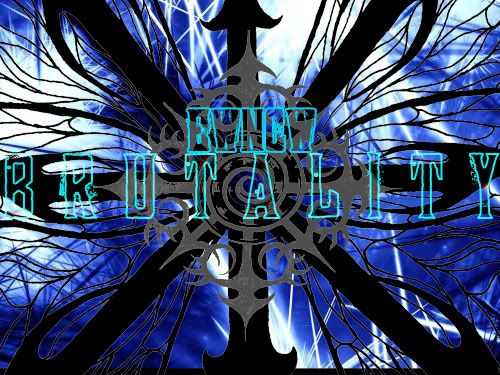 Terry Murdock: Welcome ladies and gentle to this special edition of Brutality, we had some small issues last week that prevented us from bringing you all some amazing tag tam action.

Nick Newman: But not this week, we are back and better than ever.

Robert Goodman: We have one hell of a show for you all this week.

Luke Douglas: However we kick things off as the EWNCW Blacklist Champions, The Jesting Madness look to speak up next.
Grind and Carlin emerge to the usual chorus of boos, Carlin with a huge grin on his face and Grind with a sort of smile. The monster is carrying the belt on his shoulder, and brings the vintage barb wire bat. Carlin wears the belt on his waist, and he's very extrovert in his celebration. He looks straight into the camera and says: "We did it… again!".
They both go down the ramp and Carlin imitates Hogan playing the guitar and putting his hand on his ear to hear the crowd boo. They finally enter the ring and Carlin asks for a mic:
Carlin: Curious, last time we were here in this ring you were cheering us like mad!
Crowd boos loudly
Carlin: I've got to tell you the truth; it was nice to receive some cheers every now and then. So, allow me to get some cheers for us, right?
Fans still don't like it
Carlin: You know something? We've just had an amazing PPV, Pain for Treasure, and the match that definitely stole the show, was the ladder match for the EWNCW Blacklist championship!
Crowd cheers
Carlin: We come from a show that is named Brutality, and both the Shadows of Madness and the Jesting Madness proved that the name was not chosen in vain!
Crowd keeps cheering
Carlin: And, just in case anybody forgot it, the four of us proved once again which company has the tag team wrestling in the world!
The fans still love this
Carlin: However, and here's where the cheering stops, after a grueling match, we retained this magnificent belts.
Obvious boos are obvious
Carlin: Hey, boo us, but not the belts, right?
Crowd ignores Carlin
Carlin: We came out here and said that we were going to do anything to retain, and we are men that keep their words, as you can see. We said that the Shadows of Madness weren't the men, and won't be the men as long as we are around!
Crowd boos like mad
Carlin: Hey, isn't it true? We said that and we proved it, so why booing the truth? You prefer lies?
Crowd is still booing
Carlin: Well, it seems you prefer lies. Anyway, I have some questions. What happens now that we burnt Abel's mask? Will he go crazier? Will he just keep crying? Will the Children…
Carlin is cut off
Slayde: I'll tell you what will happen. Abel here will make sure you miserable lives come to an end, just as you tried to take mine when you choked me during our Ladder Match.

Problem was we actually believed like the last time, you'd actually give a fight, an honest fight but to resort to burning Abel's mask and trying end my life just showed how far off we were and it ultimately led to our defeat, we wont deny that.

Now we see clearly and know what must be done to take that which is rightfully ours. We must end you. There is no other way around it. It will be a dark in EWNCW History because for the first time someone will not be making out of their PPV with their life or in our case lives untarnished. We will commit the cruelest act known to man and then some for we strike in the shadows and consume you in ever lasting madness to walk out of Rise from Ashes as the new EWNCW Blacklist Champions. We will rot the souls of you wicked cowards and succumb to the darkness within us to accomplish what should've been so long ago. Is that not right, Abel?

Abel: You are correct Orion. You see my dear friend here has done everything in his power to control my rage, he has pleaded with me to ignore The Children...

Now however, no.. The Children have been right all along, I should have ripped off your faces for stealing my mask! No one has the right to steal my mask, but than you made it worse... You went and burned my mask and anger The Children to know end!

No longer will I hold back.. After you actions in our last match.. I will personally make sure that The Children's dark and disturbed fantasies come true as not only retribution for myself, but for Orion as well.

You ask what happens now that I no longer posses a mask.. The answer is not something you want to know.. However you will indeed find out! Do you know what happens went an animal that is krep sheltered finally breaks free? It destroys everything in sight! And I am a newly freed beast! Blood will spill, bones will break, flesh will fall! The Children will be satisfied!

Slayde: Now give us one more shot and we will make sure you live to regret it till the end of days.

Carlin: Well, you want a title shot? In the words of Syrio Forel: Not today!

Crowd boos and Shadows of Madness seem ready to attack

Carlin: Let me finish, please! However, there's still a chance. You know, we want to give opportunities to every deserving team, we know you are, but there are others. So, if you want to earn the shot, you have to face a deserving team. They are none other than the EWNCW Intercontinental champions, The Sexiest Alpha Males! So, get outta here and get ready for the match.

Terry Murdock: Wow.

Nick Newman: Now that's how establish yourselves. You choose how these stupid Shadows of Madness have to earn their shot.

Robert Goodman: They will go to any lengths to make sure they win tonight.

Luke Douglas: Indeed, but when we see return we'll see The Crimson Samurais face The Sky High Bastard in a No DQ Match.
Commercial