CP: We're back from the break here and we're still digesting that huge match set up for Sunday!! I for one can't wait for Thunder vs Gillz!!
http://www.youtube.com/watch?v=zESU5...layer_embedded
CP: And here comes Ryan Wells!! He's been in EWNCW for 2 weeks now, and he hasn't been stopped yet!!
Bod: That's right. He's on a roll, but I'm yet to see something that makes him special. Until I've seen that, he won't convince me.
RW: Ok, so as most of you have noticed, the past 2 weeks, I've been stuck in matches with 2, shall I say...weaker opponents. Now people all around are praising me for my size, viciousness, and dominance, which is all to be expected. Also, you know, you, the fans, the support you give me also helps and I can't thank you all enough. But tonight I am a little angry and I deserve to be I think.
2 jobbers, 2 lower-mid carders, 2 wrestlers in no title picture, and that is who I have to face. As all of you saw, I destroyed them completely and quickly, as much as I like a win, I like a win against an opponent who will give me a hard time and make me show all my skills to beat, or at least a semi-decent wrestler, which is a major improvement from the opponents I already did face.
So I am asking you, no...I am DEMANDING that I get a better opponent tonight, or the EWNCW management will have a lot more then a championship debacle to deal with, they'll have a 6'7", 298 lbs angry giant to deal with too!
CP: Some big bold words there from Ryan Wells and...
Bod: Oh no...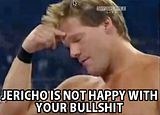 Bod:Tell me that isn't who I think it is...
CP: Sorry to disappoint Bodom, but that is indeed 'Red Hot' Istvan Gretsky!! And it looks like he has something to say to Ryan Wells!!
Istvan Gretzky: Jak siemasz! My Name 'a Istvan, Istvan Gretzky... But all you of should be knowing of this by these times in present. I am interrupted this Rodney Well to let Kurwa know manage have asked if Istvan mind break him with vascular arms made from falling star, Kurwa!
*poses, kisses biceps, and continues.*
IG: In a my country you people know I take piss in well of the village, just to be pissing off the whole village and see if men will fight me. Well, Well, this is consideration of Istvan pissing in Well to make for fighting with Istvan. Dare make fighting with Istvan, Kurwa, dare make fighting with man with VASCULAR ARMS MADE FROM FALLEN STAR, KURWA! Dare make fighting with strongest of alls, Istvan Gretsky, Kurwa! Istvan make American journey for competitionist and make breakings of bones of ECWN children to make kielbasa with guts and blood. Istvan make American journey to leave trail of guts and eyeball and rib bones, Kurwa.. I, Istvan Gretzky have making challengings to Well in village, Kurwa. Rodney Well, I am pissing with you to see if you making fights with Istvan. Istvan prepare for answer from village Well... This is Do Widzenia for now but remember name of "Red Hot" Istvan Gretzky.... He is coming soon, kurwa. Will Rodney be readys?
Bod: What the hell did that man just say? Something about pissing in a well?!
CP: Well I think Istvan Gretzky has just issued a challenge to Wells here...
*Wells looks outraged, but a smile creeps across his face*
RW: Alright hotshot, get your foreign ass in the ring here and let's do this right here right now!!
CP: Wow! And it seems we have a match here folks!!
Bod: Damn, I hope Wells gives me a reason to like him right here!!
Ryan Wells/Brock Lesner vs Ivan/A-Train
CP: And Wells does it!! How do you like him now after he beat 'Red Hot' there?
Bod: Ironically, I like him a lot more Chris. He's not letting some idiot like Gretzky get in his way, and that's the way to do it!!
__________________________________________________ ________________
CP: We are back live and its time to hear from the candy man.
*Candy Man comes down the Ramp theres no ice cream van today*
Candy: nyron ..I'm saying this to you now so everyone can hear it and u and my fans can understand why I left..I didn't mean to cause as much harm as i did but there was no money around at the time I had to go..i had to get out while i still could ...u were dragging me down and ur mother was a two faced fukin hore how couldn't give a fuck about anything other than men...I had to leave and make money for the future for your future for our future..nyron I'm sorry ..I did what was best for us
*Candy Man puts the Mic down and heads to the Back we see Nyron Backstage starring ferociously at the Screen*
CP: well Bods I certainly hope that Nyron takes notice of this I mean we don't really want to see a father and Son go at it
Bod: Well I do Chris. Candy Man is in an Idiot and an Asshole and I hope Nyron beats the Shit out of him Sunday at the PPV.
CP: Well certainly everyone has their own view on this one and whether I like it or not I guess we will see it at Day of Reckoning folks.