[Authors Note: The idea of the UWA traveling with the Vans Warped Tour and having a musical guest is actually an idea I had for TNA's IMPACT Wrestling, that way it'd be a cheaper way for them to tour and get OUT of the Impact Zone. I won't actually post any music videos here though]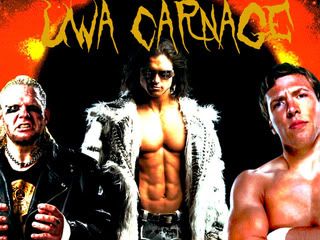 Theme: "Unholy Confessions" by Avenged Sevenfold
-A video recap of last Sunday's Elimination Chamber match is shown
From Mountain View, California's Shoreline Amphitheater UWA Carnage is LIVE from the Vans Warped Tour!
The new UWA Champion John Morrison comes out to the ring
Morrison says that last Sunday night as he was pinning Bryan Danielson his dream came true
Morrison says that being the UWA World Champion is the pinnacle of his existence on this planet!
Morrison promises to be the greatest UWA World Champion in the history of the UWA!
Morrison says that he's going to be a fighting champion!
Triple H comes out
Triple H says that the belt that Morrison is wearing right now? That's his!
Triple H says he wants it back!
Triple H starts walking down the ramp when Shawn Michaels attacks him from behind!
The two begin brawling all the way down to the ring
John Morrison walks past them and holds up the UWA title
-AJ Styles is with JB
JB asks AJ Styles why he asked for this time
Styles demands that he gets his UWA X-Division Champion rematch with Jeff Hardy TONIGHT!
-Mr. Kennedy beat Devon Dudley at 5:21 by Pin
Spiral Shoulder Tackle for 2
Devon had Kennedy set up for the Saving Grace when Chris Harris ran out from the crowd
Mic Check for the win
After, Kennedy grabs the microphone
Kennedy says that win loss or draw he is STILL the most entertaining part of UWA TV!
Kennedy says that Lance Hoyt will NOT get away with this!
-Dana White finds Jeff Hardy
White tells Hardy that as the X-Division Champion he's got some say
White asks Jeff Hardy if he wants to face AJ Styles tonight.
Hardy says that he'll fight AJ Styles tonight, BUT if he beats him, that's it
Hardy says that if he beats AJ Styles he'll NEVER have to face him again as the X-Division champion!
White says he'll find AJ Styles
-Alex Shelley walks up to Chris Sabin in the locker room
Shelley tells Sabin that he didn't have to do what he did last Sunday
Shelley tells Sabin thank you
Chris Sabin tells him that no thank you is needed because until the end of time the Big D will live on!
None other than Kevin Nash walks up to Sabin and says "Oh yes it will!"
-Randy Orton beat Bryan Danielson at 12:11 by Pin
Danielson nailed a German Suplex for 2!
Danielson went for a spinning elbow strike when Orton nailed the RKO for the win!
After, Samoa Joe ran out and began to beat the hell out of Danielson!
Joe locks in the clutch till Danielson passes out
Joe set up Danielson on the top rope and nailed the Island Driver!
After, Joe grabbed the microphone
Joe says that if Danielson wanted to cost him HIS UWA title Joe would cost Bryan his life!
Joe grabs a steel chair and bashes Bryan in the head!!
-Dana White finds AJ Styles
White tells Styles that he's got his rematch for the X-Division Title
White tells him that if he loses tonight he will never get another rematch at Jeff Hardy.
Styles tells him that he should get ready to crown him the NEW X-Division Champion!
-Triple H bust into Paul Heyman's office
Triple H demands a UWA Title shot at John Morrison!
Before Heyman can answer HBK runs in from behind and begins to brawl with him again!
Security runs in and breaks it up

-Jeff Hardy<c> vs. AJ Styles
X-Division Championship
Pele Kick to Hardy for 2
Superman 450 to Hardy for 2
Sitout Suplex to AJ for 2
Hardy nailed the Twist of Fate and went up for the Swantonbomb
Before Hardy could hit it CM Punk kicked him right in the head!
Jeff Hardy beat AJ Styles at 13:47 by DQ
Jeff Hardy retains the UWA X-Division Title
AJ Styles is pissed off and attacks CM Punk
Styles Clash to Punk!
-Randy Orton finds Paul E.
Orton tells Paul that he beat Danielson tonight
Orton tells him to take notice
Kaz walks up and tells him that he's never beaten him
Orton challenges him to a match next week!
-Triple H comes out with the sledgehammer
Triple H demands Shawn Michaels to come out!
Triple H says that if HBK wants him…HERE HE IS!
Shawn Michaels comes out and screams that he doesn't want a wrestling match…he wants a fight!!
Shawn Michaels runs down to the ring and avoids the Sledge Hammer
Sweet Chin Music to Triple H!
Shawn's not done as he pounces on Triple H and begins to pound away!
Dana White and Paul Heyman both make their way out and scream for them to stop
Security pulls HBK off of Triple H and holds him back
Dana White asks him what the hell he is thinking
Shawn says ending this
Shawn spits at Dana White as security drags him out of the ring
Forget To Remember
Theme: "Invincible" by Adelitas Way