Mayhem ep 16 6-18-11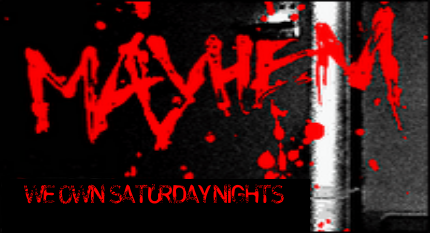 http://www.youtube.com/watch?v=CpZafqKl1g8
Hello and Welcome everyone to the Philips Arena in beautiful Atlanta, Georgia where we have a great show tonight. Tonight we have all the backlash from an amazing PPV, along with a rare appearance by JBW founder and CEO WWTNA Mark, but first…
Coming in at number 10 is...
http://www.youtube.com/watch?v=foFFGfG3pnY
RomanFlare! Flare's video comes up on the titantron and he comes in at number 10. Romanflare's recent rise up the ranks in JBW has been well documented, and his change in attitude along with it has been met with negativity from the JBW faithful.
Coming in at number 9 is…
http://www.youtube.com/watch?v=LOESyEljmFE
AngrySamoan! Much like RomanFlare, this two time former number 1 contender for the Mayhem World Championship has undergone a recent change in attitude, but in the hearts and minds of the JBW fans, this change has been for the better. This recent change might have coincided with a loss of aggressiveness though, as his change in heart hasn't gotten him many wins as of late.
At number 8 is…
http://www.youtube.com/watch?v=7hbhQ...eature=related
Wes Goldman! Goldman could have been much higher on this list less than a month ago, but a recent string of losses by the likes of The Sleeper/Helmsley and MassDinero, and him getting owned by The Jackasses last week have brought him down a spell. Still though, the man that is The Eye's monetary backing has huge potential written all over him.
At number 7 is…
http://www.youtube.com/watch?v=YHy6QkW89T4
Chris Parker! Not much is known about the international superstar Chris Parker as of yet, but his domination of Loki last week in a match that lasted just under ten seconds bought him some huge points. This relative newcomer to JBW has big things ahead of him if he keeps on this track.
Coming in at number 6 is…
http://www.youtube.com/watch?v=rhyiqGIJQus
Brandon Smithson! Mr. Amazing Brandon Smithson is one of the most interesting and unique talents on the Mayhem roster, along with being one of the most well liked superstars by our fans. His rally for peace here in JBW has been met with a great response from our fans, and has landed him solidly in the top ten at number 6.
Coming in at number 5…
http://www.youtube.com/watch?v=uY3LAFJbKyY
The Sleeper! Our Mayhem TV champion and resident badass luchadaor is still undefeated in singles competition here in JBW, a feat that not many can claim with as long as he's been in the company. With The Sleeper now having Helmsley by his side to guard his back, there's no telling how high his ceiling is here in JBW.
At number 4 is…
http://www.youtube.com/watch?v=UHXGpgaM2ys
St. George! Veni Vidi Vici's ass kicking cockney code cracker has been one of the most over guys since he first stepped into a JBW arena, but his response from the crowd multiplied once V-3 was revealed to the world. With a solid win over a wrestling legend like Eric Bischoff at the PPV, St. George proved that he can walk the walk as well as talk the talk.
At number 3 is…
http://www.youtube.com/watch?v=M0j5y...eature=related
K-Jammin! Well, if your goal in the company was to be hated by every single person in the arena than K-Jammin is the person you should mold yourself after, because he accomplishes just that. The brash, controversial superstar constantly brings in ratings though, and he backs up his oversized mouth in the ring. Now that he has someone like Katie in his corner who's willing to do anything for him, he's become even more feared and hated while in the ring.
Coming in at number 2 is…
http://www.youtube.com/watch?v=L8dRQQSovGI
Ma$$Dinero! Easily one of the best talkers in e-fed history, Ma$$Dinero has proved himself much more than just a great freestyler. With a recent win over Wes Goldman in an epic match at Global Uprising, Mass has secured his spot in the company, and is only one spot away from being the number 1 contender for the Mayhem Heavyweight Championship.
And the new number 1 contender for the Mayhem Heavyweight championship is…
http://www.youtube.com/watch?v=6db6SIlSP2g&feature=player_embedded
Psycho Siaki! Siaki was absolutely screwed out of his last chance to regain the top strap, so it was only fitting to give him another shot at the gold. He now renews his rivalry with our evil, sinister Mayhem World Champ, Chainsaw.
Well there you have it folks, Mayhem's top ten rankings for this month. The same rules that apply for Warfare apply for Mayhem. The wrestlers on this list will constantly be moving up and down based off of success in the ring, and…
Hey, I know that theme!
It can't be! The fireworks are going off! It can't be him! The fans are chanting the name "Gooooooldberg" "Gooooooldberg" He's stepping through the pyro. It's... It's... IT'S RomanFlare? Wearing a bald cap over his mask like an idiot (yes, Roman is a masked wrestler if you didn't know). He's making his way down to the ring as the crowd shower him with boos. He looks like he has a bug up his ass.
" Unfortunately Bill could not be here tonight, but I didn't want the pyro to go to waste. Enough shenanigans, I'm here to report another part of the Mayhem conspiracy against me. You see, as you just saw, there is this new ranking system for the top titles on each brand--1 to 10, with 1 being the #1 Contender. Naturally, I should be #1, right? I mean, I haven't lost a match in weeks, my segments are some of the highest rated 15-minute periods of the show, and last Sunday I single handedly decided the outcome of the Mayhem World Title match. It's even my birthday today! I deserve a title shot and you all know that! *crowd boos* But NOOOOOOOOO, I'm all the way at the bloody bottom of the list. But hey, the decision makers in JBW know what they're doing right? I mean, the guy at number 1 has to be more deserving than me, that's what the top 10 says, so it has to be true. Let's see, who's at number 1, hmm *acting like he's trying to remember* oh I know, it's the man who failed to capitalize on his chance last Sunday, Psycho Siaki. Of course, the guy who already had his chance and blew it! You know what, I'm tired of this bullshit. I'm being overlooked by everyone from the GM to the fucking catering crew! Apparently I need to make an even bigger name of myself, and I started that on Sunday. Siaki had--"