Commentary Segment:
Joey Styles welcome everyone back from the break and gives an official welcome to Episode Ten- ECW: Return of Extreme! Styles says that while Heat Wave was a huge success in terms of numbers and excitement- he's not quite got over some of the action went down and that some people have a lot to answer themselves for and none more so then the ECW GM- Paul Heyman! Joey says that Heyman is hear tonight and has announced on social media that will explain his actions- but has warned- not everyone likes the truth. Joey ponders what Heyman could mean from that after he blatantly screwed CM Punk out of winning the ECW World Championship. Joey then says that not only does Paul E have some actions to explain- but how about the evil, sick and twisted, Raven? Joey says that Raven went too far and confirms that he's been suspended without pay for his actions at Heat Wave against Terry Funk. Joey says that speaking of Terry Funk- He's in a bad way but thank the lord- he's stable and has Mick Foley at his bed side. Joey says that if there's an update at any point- we will be informed. Joey then says that there is some positive news though- because we will not have to put up with his voice calling the action solely and says he's pleased to have an ECW legend and a friend at his side tonight- calling the action..
The crowd give a big pop as ECW favorite- Taz, makes his way down to the ring and joins Joey Styles on commentary. Taz thanks Joey for the introduction and says that he's delighted to be back home in Extreme Championship Wrestling! Taz talks briefly about the actions of both Heyman and Raven last night at Heat Wave. He says that while Raven is a sick son of a bitch, he went too far last night and that he should be fired. Taz says that as for Heyman- that's not the Paul he knows and says he can't wait to hear what excuses he comes up with tonight. Both Taz and Syles then talk about the action to come tonight as we will see Jericho return to the ECW ring and compete against Alberto Del Rio. They also announce that RVD and Sabu have activated there rematch clause for the ECW tag team Championships and will face the Ascension at Anarchy Rulz. They then both finish the segment by hyping up the birth of the eXtreme Division! Taz says that he's heard through the grapevine some of the names that will be involved and it's going to be awesome! Styles then confirms that the first ever eXtreme Division match is going to take place next and the winner will advance to Anarchy Rulz!
Match One: Paul London vs ?? - eXtreme Division Qualifying Match (Winner advances to the "F4W" Ladder Match at Anarchy Rulz)

The crowd give a nice welcome to Paul London who enters the ring in energetic fashion- clearly delighted to be competing in the first ever eXtreme Division match. All eyes then turn to the stage where the crowd await London's opponent..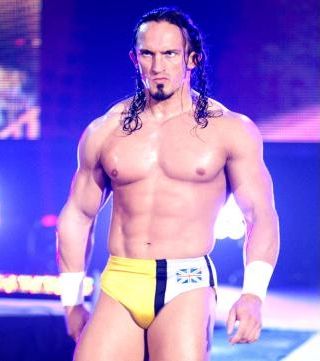 The crowd give a huge pop as the man gravity forgot burst's out on to the stage to huge excitement from the crowd. The EC-Dub fans give another smaller pop as the man formerly known to the WWE as Adrian Neville is announced to the ECW fans as PAC. PAC then slides underneath and poses at the top of the turnbuckle with his arms raised- telling the crowd it's my time! PAC and Paul London then take center stage as the ring bell is sounded.
Match Highlights:
- The match started with PAC and London shaking hands as the crowd cheered for the sign of respect from both.
- London would land the first highflying move of the night. He would hit a springboard moonsault from the top rope- landing on PAC to the outside of the ring.
- PAC would then show his strength and would wow the crowd. London would look to hit a hand springboard elbow strike to PAC who would catch him in a German suplex position and would deadlift London from mid air before sending him crashing back down over his head with the impressive German suplex.

Both men would put on an impressive display of agility and ability as the crowd were glued to there seats with excitement and intrigue- wondering what was to come next from either Paul London or Pac. The ending would come with PAC down and Paul London on the top rope. He would leap into the air and would look to come down with a senton bomb that would see PAC move out of the way and London crash hard to the canvas. PAC would then rev up the crowd with some taunts before super kicking London to the chin and knocking him down. PAC would then leap into the air and come down with a standing moonsault before taking the top rope and would finish the match in style.. RED ARROW!! One! Two! Three!
PAC would celebrate in the ring as the Referee would raise his arm in victory. PAC would then help up Paul London as the two men would shake hands and embrace in the ring- the crowd cheering both men. London would then exit the ring and PAC would remain taunting with the fans at ringside as the camera footage went backstage.

Royalty & Francine Interview:
The live camera is backstage where William Regal and Drew Mcintyre can be seen viewing the highlights from the debut victory of ECW's newest recruit- Pac. Behind them both stands the giant of a man- Mason Ryan. Regal seems deep in thought as he watches PAC while Drew notices Francine heading in there direction.

"Regal, Drew, Mason.. Moment of your time each if I could, please?"
Says Francine as Drew turns away instantly and Regal steps forward before speaking,
"My darling, Francine, where are your manners, really? I mean, Drew Mcintyre, the Chosen One, the future of this company is fresh off a big victory at Heat Wave and you come to interrupt his down time? I think not, young lady. As for me, Lord William Regal and Royalty's brute- Mason Ryan, we have a tag team match tonight against those bloody cretins- Enzo and Big Cass. So excuse us, Francine, we have to go and prepare for our match"
Royalty then leave the camera picture with Francine left to ponder the words of William Regal as the camera shot goes to a commercial break.
>> COMMERCIAL <<