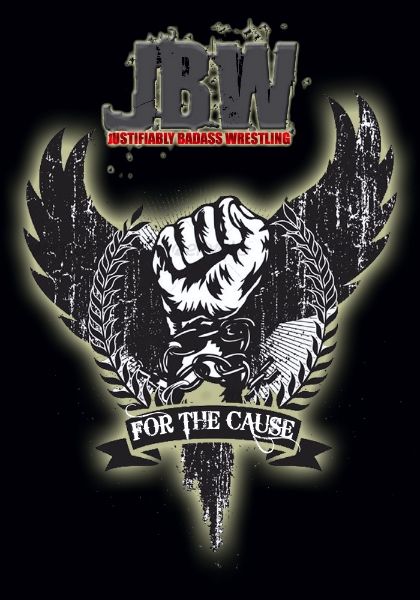 "Tonight, they fight for glory, for immortality, for greatness. Tonight, they fight for all they're worth, to prove how great they are. Tonight, bodies will give, blood will be shed, tears will fall... tonight they fight, for victory, for honor, and for integrity. Tonight they fight, FOR THE CAUSE!"
(The cameras come into the arena as we see everyone on their feet holding up their signs and cheering as the fireworks go off in the arena. We come in on Pat and Dudley who are standing and clapping as well. They sit down and put on their headsets as the audience chants "JBW! *clap, clap, clapclapclap* FOR THE CAUSE! *clap, clap, clapclapclap* JBW! *clap, clap, clapclapclap* FOR THE CAUSE! *clap, clap, clapclapclap* Pat smiles at the home audience as he begins to talk into his headset.)
Pat: Hello and welcome to JBW: FOR THE CAUSE!!! We are coming to you LIVE from Madison Square Garden in NEW YORK CITY!!! We have an amazing show ready to roll out tonight and Duds, I think these people are waiting to be impressed!
Dudley: That's accurate as hell Pat! Have you heard this crowd yet? If this is any indication, we are in for one helluva night all around!
Pat: We're being told that we're going to get right into it tonight, folks! Our first match of the evening has been building for the better part of a year and a half and it's sprawled out from JBW, HWA, BITW and back to JBW again… and they've never had a match!
Dudley: Tonight, not only are RedRuM and The Alpha Dog in a first time match, its also going to be a knock-down, drag-out, kick-ass match! It's going to be a No Holds Barred Street Fight!! I expect this to be an ultimate fight from the door!
Pat: And that match be…
(RedRuM's music begins playing and cuts Pat off. He throws his headset down and can be heard mumbling "Whoever is playing this joke needs to stop, it's beginning to irk me.")

(RedRuM comes onto the stage and starts throwing up gang signs. He makes his way straight to the ring without hesitation. He rolls from under the bottom rope and motions for Alpha to come on. Alpha's music immediately starts playing, instead of RedRuM waiting for him, he runs up the ramp and meets him. Alpha was lying in wait and clubs him with the eWN Championship. He drops it and grabs RedRuM by the face. They fight all the way to the ring, as they get in, the bell is rung and this one is officially on its way!)
MATCH. 01 – NO HOLDS BARRED STREET FIGHT: THE ALPHA DOG vs REDRUM
Alpha Dog = Edge/RedRuM = HBK - start at beginning, stop at 8:45



(BAM! Alpha Dog hits canvas! )

Dudley: Ha, crash and burn baby! That's why it's called "high risk!" And jumping from that high equals a whole hell of a lot of high risk!

Pat: Sure enough, that was a huge maneuver by the Alpha Dog - but RedRuM had it scouted, rolled out of the way! Now he's... wait, he's getting out of the ring! What's he... oh no...

(RedRuM leaves the ring and starts searching under the ring... until he finds just what he's looking for.)

Pat: A crowbar?! You can't be serious!!

Dudley: Well RedRuM sure as hell looks serious to me! Did you miss the part where it said "No Holds Barred Street Fight"? As in "do whatever the fuck you please and win this motherfucker"?

(RedRuM wastes no time in getting back into the ring and taking the crowbar to Alpha's arm... then his other arm... then he stops and decides "to hell with it" and puts in more work on Alpha all over! Alpha roars in agony with each blow! He starts to try and get up - only to have RedRuM sit on his back and hold the crowbar against his throat in an improvised camel clutch maneuver! "Ask him, motherfucker!" he yells at the ref... even as the ref asks him, Alpha Dog refuses to give up - even as his face turns purple! Alpha strikes back, jamming the back of his head into RedRuM's face - bloodying his nose! Several reverse headbutts later, RedRuM rolls off clutching his face as Alpha Dog gasps for air as he nurses his injured arms...)

Dudley: Well if this isn't PPV material then I don't know what planet you're from, people, but this is turning into a bona fide blood war here!

Pat: So true there, Duds... both of these men have been to hell and back, but it's the Alpha Dog who's come out worse for wear here... and after that crowbar assault, RedRuM's taken down Alpha's offensive power - he relies on those hands and arms of his for his myriad takedowns and submissions! But now that his arms are mangled, what chance does he have?

(Alpha gets up and barely dodges another crowbar swing from RedRuM - retaliates with a crushing side kick to the ribs! RedRuM drops his crowbar and crumples to the mat! Alpha notices the crowbar and picks it up - but by the time he turns to RedRuM, he's already rolled out of the ring! RedRuM goes to snatch up a kendo stick from under the ring and re-enter... and the two men face off, weapons ready... Alpha swings the crowbar and misses! RedRuM counters with his kendo stick, catching Alpha in the side of his head! But Alpha won't go down! He rushes RedRuM with the crowbar, taking him to the mat in a full mount position... WITH THE CROWBAR!)

Pat: Holy - what a massacre! It's bad enough that Alpha Dog is an MMA terror who is well versed in ground-and-pound... but now he's doing it with a weapon?!

(The beating is intense and bloody as Alpha wreaks havoc upon RedRuM, swinging mercilessly with the crowbar! RedRuM's face is a red mess as he somehow manages to escape the Alpha Dog and scrambles away... Alpha is in hot pursuit after him, but is stopped as RedRuM reclaims his kendo stick - and swings it up into Alpha Dog's groin!)

Dudley: Oooooh! Gotta protect the McNuggets!

Pat: WHOA! What... a... shot! Alpha's down! Can't blame him - with that sort of damage, who would want to keep fighting? But RedRuM's got the advantage - a cover -

1!

2!!

Thr- NO!!!
(Alpha Dog stays alive with a kickout! RedRuM is beside himself with rage as the ref tells him it was only good for two! In return, RedRuM grabs the ref by his shirt and tells him his fucking carcass is good for nothing and he had BETTER LEARN TO COUNT BETTER OR ELSE -)

Dudley: OH MY GOD! CROWBAR TO THE NUTS!!! CROWBAR TO THE NUTS!!!

(Alpha Dog had grabbed the crowbar and did unto RedRuM what RedRuM had done unto him while distracted with the ref! RedRuM's face becomes a caricature of pain and agony... but before he can fall down, Alpha is on his feet - turns RedRuM around - ALPHA SHOCK!!! RedRuM is planted face first with the Alpha Dog's trademark finishing move! Alpha Dog turns him over and goes for the pin –)
1!
2!!
3!!!
Pat: Words cannot express how happy I am that that match is over, Duds! Alpha and RedRuM just mangled themselves in every way possible and I know neither of them will be the same after this…

Dudley: I definitely agree with you Pat. That was an incredible showing from both men and a damn fine choice to begin this night. I can't wait for the next match!