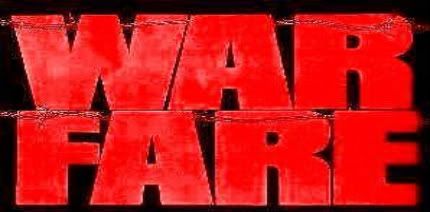 http://www.youtube.com/watch?v=e4981bmFXbc
Warfare kicks off with the pyros hitting and the fans chanting JBW chants! We are one week away from JBW's next PPV Self-Destruction and we already know what the card looks like. Well lets get started folks!!!
http://www.youtube.com/watch?v=qIF_HtE-4No
IPITB makes his way to the ring without his Warfare World title and a mic in his hand. The fans give him a good reaction. IPITB storms into the ring and starts to talk. "You see, i'm not going to beat around the bush. Snair, you have what I want and I want it now so bring your ass out here right now! *Waits for him to come out*
http://www.youtube.com/watch?v=3ktpyM_yGRI
Snair appears smiling while holding the Warfare World title around his shoulder. "Looking for me IPITB? Haha well i'm here and its obvious that you want your title back, well its not going to happen. *Crowd boos* Because you see, I was suppose to hold the Warfare title, I was suppose to be in the first title defense but no, you and that other unknown wrestler gets the shot. Well you see, until you beat me at Self-Destruction, your not the official champion on Warfare. You have to go through one person to get back your title, me! As for now, i'm keeping your title because quite frankly, you don't deserve it. I do! You won't have to worry about me having your title because i'm going to win the Warfare title anyways. It won't make a difference. You can say that the Warfare World Championship is on ice as of now but at Self-Destruction, we will know who the REAL champion is. Good luck this Sunday, you will need it!
*IPITB replys* "Maybe you didn't understand me when I said that I want my title back but it looks like i'm gonna have to come up there beat the hell out of you, and take my Warfare World title back! Does that sound like a good idea everyone??? *Crowd cheers* Well then it looks like i'm gonna have to do so!
*Snair talks* "You aren't going to do anything because i'm leaving as of right now. *Snair leaves*
http://www.youtube.com/watch?v=m4yuZ...eature=related
TBA's music hits and all you see is Snair running back out as TBA is chasing him into the ring which IPITB tries clotheslines Snair as he runs into the ring but Snair ducks it and escapes the ring into the crowd. TBA and IPITB both looks pissed as they failed to get revenge on Snair.
http://www.youtube.com/watch?v=Z5gmDnpz5vg
*Brown One walks out with a mic* "Enough three of you! Enough! This is getting out of control now! Since you TBA and IPITB wants to fight Snair so bad, you will do so tonight! Its not going to be a 2 on 1 Handicap match, Snair is going to find a partner in the back and if he finds one, we have a Tag Team match tonight but
if Snair cannot find a Tag Team partner, its going to be a Handicap match! Now, Snair, if you do not hand over the Warfare World title to IPITB right now, you will not get your Warfare title shot at Self-Destruction. Got it?
*IPITB starts to talk* "You Brown One, let him keep it. If he thinks that he should rightfully be Warfare Champion, then let him hold MY title but at Self-Destruction, we will see who is rightfully Warfare Champion. IPITB drops the mic and thats it for this promo.
VKM and Heelturn are backstage. *VKM starts the conversation* "Listen, we have to win tonight against SevenCagedTigers & Tom George. The Ego Trips needs this win in order to get back another crack at the JBW Tag Team titles. Now I didn't want to have to say this but you haven't been doing anything lately. *Heelturn disagrees* "What do you mean by that?" *VKM replys* "Well, you haven't been stepping up to the plate as of lately. The Ego Trips are suppose to be a winning team with a cocky attitude but you aren't showing any of that. It kills for me to say this but your becoming soft. Your always the weak link in the matches and you've always been quiet while I have been the talker of the team. You have to keep your end of the bargain. *Heelturn responds* "Well maybe I would't be so quiet and always get pinned if you had my back once in a while and you would't be such an attention whore! You know what, I ain't gonna get into a argument over something stupid. I'll meet up with you in the ring when you can cool your "ego" down alright? *VKM replys* Yeah, you do that.
Wallyman is up next as he defends his Warfare TV title against HHHBK!
Match 1
: Wallyman vs HHHBK for the Warfare TV title
Wallyman
http://www.youtube.com/watch?v=IvO5UwHa58I
Wallyman makes his way to the ring ready to defend his Warfare TV title. He gets booed from the fans.
HHHBK
http://www.youtube.com/watch?v=AbPwQKynFg4
HHHBK makes his way to the ring and gets booed from the crowd as well. He looks to capture the Warfare TV title.
HHHBK wins the match by count out from Wallyman paying too much attention to Absolutely Perfect but he isn't Warfare TV Champion due to the rule book!
All three wrestlers then start to argue then it leads to physicality with Wallyman throwing the first punch at Absolutely Perfect leading to all three wrestlers fighting each other! Absolutely Perfect beats on both of them and throws them out of the ring! Talk about strength! Both HHHBK and Wallyman looks surprised how they both got beaten down tonight against one man which is AP! Wallyman and HHHBK leaves the arena.
Snair is backstage trying to recruit The Grand Wizard. *Snair talks* "Tonight, I have to take on both TBA and IPITB tonight but I need a partner to even the odds. What do ya say?" *The Grand Wizard refuses* "Nah man. Thats your business and besides, i'm in no way, shape, or form going to have your back tonight. I'm a lone Wolfe. Kick ass though!"
Match 2
: thedag vs The Crippler
thedag
http://www.youtube.com/watch?v=pQrJuhRfDRM
thedag makes his way to the ring being well.... his usual self. He kinda blows kisses to the fans which gets him booed. He seems to imbrace the boos.
The Crippler
http://www.youtube.com/watch?v=V4Z3m5pZj3o
The Crippler makes his way to the ring.
The Crippler wins by DQ! thejman93 tried to beat down The Crippler which did not work as The Crippler fought back and threw him out of the ring with help from Yes_I_Am as he came out to the ring as well.
thejman93 is out of the ring with thedag and they both look pissed! Thats two wins for Yes_I_Am and The Crippler and 1 win for The Arisocrats! Yes_I_Am and The Crippler is definitely proving that they are a threat to The Arisocrats and threre Tag Team titles!
Snair is backstage and tries to recruit steveorton as his Tag Team partner but he also refuses the offer.