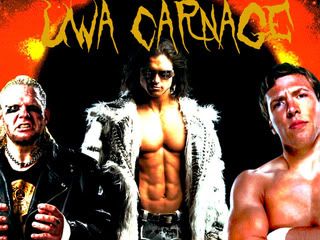 Theme: "Unholy Confessions" by Avenged Sevenfold
-Bryan Danielson makes his way out to the ring
Danielson says that he thought he would join Ring of Honor to help bring back the ART of professional wrestling
Not beat the hell out of the entire roster!
Danielson says that if THAT was what CM Punk and Ring of Honor was about then Bryan was OUT!
CM Punk and Ring of Honor make their way out to the ring.
Punk says that he personally brought Bryan Danielson to the Ring of Honor invasion and he WILL finish what he's started damnit!
Danielson asked how Punk was going to make him?
The ROH roster stepped in between Punk and Danielson BUT before anything physical could happen Dana White makes his way out
White says that he loves seeing Ring of Honor at odds with each other!
White announces that at Never Gonna Stop he feels that one of the three company's need to go.
Tonight there will be a triple threat match to determine which two companys will face off in a 5 on 5 Elimination Tag match at Never Gonna Stop
The loser of the tag match will disband!
-Lance Hoyt is with JB
JB asks how Hoyt feels about beating Edge at M.I.A last night in his UWA debut?
Hoyt says that he's here for ONE reason and ONE reason only...to be champion!
Hoyt says that last night was just the first step
-Shawn Michaels beat Chris Sabin at 7:28 by pin
Springboard Dropkick for 2
Sweet Chin Music for the win!
After, the lights died and a Scorpion appeared on the ring mat!
Sting is up in the rafters.
Sting asks Shawn if he REALLY wants his only match with Stinger to be a LOSS?
Sting challenges HBK to finally end this at Never Gonna Stop!
-JB is with John Morrison
JB asks how Morrison is going to climb back up the ladder to get another UWA title shot?
Morrison says that he's going to earn his spot in the UWA title picture!
-Christian beat Devon Dudley at 5:54 by pin
Saving Grace for 2
Killswitch for the win
After, Edge speared Devon!
-CM Punk asks the ROH Locker room who wants to step up and take out ECW and UWA tonight?
Jay Lethal walked up to Punk and said that HE would step up and take ROH out of the 10 man elimination match.
-AJ Styles comes out.
AJ Styles says that the war between UWA and ROH and ECW is still going to continue
BUT AJ Styles is going STRAIGHT to Never Say Never! And he's going STRAIGHT to the main event!
AJ Styles promises to make sure he walks out of Philly with the UWA title!
Samoa Joe makes his way out.
Joe says that a couple of months ago Samoa Joe refused to join AJ Style's UWA.
Joe says that in a couple of weeks Samoa Joe will REFUSE to lose the UWA title to him!
-Dana White finds Triple H in the back stage area.
White tells Triple H that as of THIS moment Sting vs. Shawn Michaels WILL happen!
White says that to ENSURE that Sting vs. Shawn lives up to the classic it should be Triple H is going to be BANNED from ringside!
Triple H asks him if he really thinks that will stop him from coming down there?
White says that if THAT won't....maybe a Deadman will.
Triple H says that HBK will kill Sting!!
-Paul E. goes to RVD and ECW locker room.
Paul asks whose going in tonight to defend the Extreme honor?
RVD says that after last night there's no way ECW is going to lose tonight!
Balls Mahoney comes up and says that he'll make damn sure of it!
-Jeff Hardy beat Kaz at 16:09 by pin
Springboard Legdrop for 2
Front Sitout Suplex for 2
Swantonbomb for the win!
After, Alex Shelley attacked Hardy again!
-Dana White announces that next week the OFFICAL contract for Sting vs. Shawn Michaels will be signed!
-John Morrison beat Jay Lethal and Balls Mahoney in a Triple Threat Match at 28:19 by pin
Sitout Spinebuster to Lethal for 2
Springboard DDT to Balls for 2 by Lethal
Flying Chuck to Lethal for 2
DDT off the top rope to Morrison for 2 by Balls
CM Punk came running down to the ring to try and interfere when Bryan Danielson cut him off!
Punk tried to yell at Danielson to move but Balls nailed a baseball slide to the back of Punk knocking him into Danielson!
Starship Pain to Lethal for the win!!
CM Punk can't believe it.
Punk locks in the Anaconda Vice onto Danielson on the outside screaming at him that it's "HIS FAULT!"
Never Gonna Stop
Theme: "Scarlet Letters" by Mudvayne
"Awake and Alive" by Skillet
1.)The Undertaker vs. Triple H
2.)Team ECW vs. Team ROH
5-on-5 Tag Team Elimination Chamber Loser Disbands
3.)Samoa Joe(c) vs. AJ Styles
UWA Title
4.)Sting vs. Shawn Michaels
1st Time Ever