JBW CREATIVE TEAM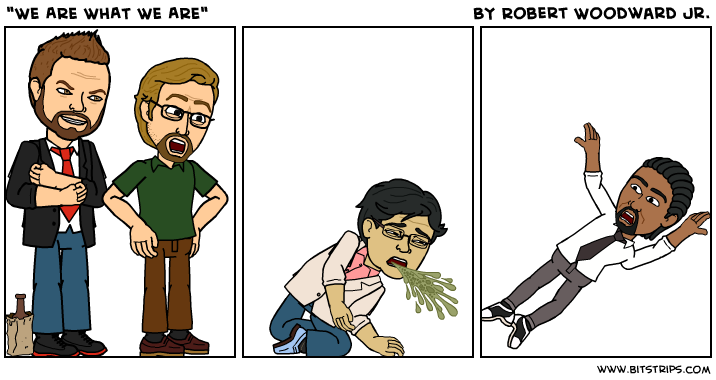 R(OB)
Name:
Rated_R(ob)KO, (AKA Da' Baws!, AKA God Of Assholes, AKA B(ruce), AKA Window Licker)
From:
New Jersey Born, New Jersey Now, New Jersey When I Die...
Position:
Overseer of all things JBW. Main writer of the flagship show with my team of Scribbs and EHC
Brief Biography:
Well, I've had a helluva path. Started as a blogger, got wrangled into e-fedding by Ka$h, quickly became creative for JBW, left, came back, left, came back, left, started SRW... failed. Stayed away, made BITW with Ka$h, Stopped, and now two years later took over JBW completely and now I put out great shows that no one cares about or pays attention to... even after they clamored for it and say I'm doing great. Huzzah!
Favorite Wrestlers:
Rowdy Roddy Piper, Chris Jericho, CM Punk, Stone Cold Steve Austin, Dusty Rhodes, The Undertaker, Sting, Mick Foley, Ric Flair, and ___________ are my top ten... there's many, many more as well.
Favorite Movies:
The Breakfast Club, The Crow, A Clockwork Orange, Clerks., Ferris Bueller's Day Off, Kick-Ass, Groundhog Day, Zombieland, Scott Pilgrim VS The World, The Nightmare Before Christmas
Favorite Music:
I always catch myself listening to Slipknot, Killswitch Engage, Alesana, Dir En Grey, Deftones and many, many, many more... music moves me.
Favorite TV Shows:
RAW, Doctor Who, Friends, HIMYM, Duck Dynasty, NXT, Total Divas, Red Dwarf, Tons Of Anime... currently on Blood Lad and the reimagining of Rozen Maiden... favorite Anime of all is Dragon Ball Z and Cowboy Bebop... Walking Dead, Once Upon A Time, and whatever else my wife watches...
Favorite Video Games:
Legend Of Zelda: Ocarina Of Time, Silent Hill 2, Final Fantasy VII, Monster Party, Pokemon Silver, Super Mario Bros.3, Resident Evil 4, Bioshock: Infinite, The Last Of Us, Pac-Man Championship Edition DX, Spider-Man In Maximum Carnage, Altered Beast, and plenty more.
Favorite Comic Characters:
Batman, Deadpool, Carnage, Spider-Man, Green Lantern, TMNT, Nightwing, Darkseid, Constantine, The Sandman, The Umbrella Academy, and tons more.


EHC
Name:
eyehatecena, (AKA ehc, AKA Michael, AKA anniesboobs)
From:
Born in New Orleans
Creative Positions Held:
Got my start in EWA but left after first show as there was no real communication. Came back on creative in EWA when Robaried asked and learned a lot from the kid- but left after Des and Roba left but did matches for last show. Had written a few matches before for JBW when Ka$h ran it but actually did the matches for R(ob). Was gonna be in charge of the Bombshell division but that fell thru when Ka$h left and Eddie and JMan took over- not their fault, I never told them. Became creative member of SRW, but shut down before first show. Have written a few matches for Tommy for EWNCW. Became creative member in BITW, then am now on creative in JBW.
Brief Biography:
Former professional hitman of marine animals, now reformed. Is a Coke (Cola) addict. Loves tacos and sushi. Wishes he was anywhere but in America.
Heroes:
Pope John Paul II, Pope Francis I, Dali Lama, Ghengis Kahn, Napoleon, Vlad the Impaler, Sponge Bob and Patrick, Morgan Freeman
Favorite Music:
Sex Pistols, Ramones, Metallica (Old School), Nirvana, Foo Fighters, Hank III
Favorite Movies:
LOTR Trilogy, Zombie Movies, Simon Birch, Princess Bride
Favorite TV:
Sons Of Anarchy, True Blood, Community.
Favorite Wrestlers:
Brooke Tessmacher, Velvet Sky, Paige, Bryan Danielson, Austin Aries, CM Punk, Alex Shelly, Chris Sabin, Edge, Owen Hart, Bret Hart... can't stand Orton or Cena.
SCRIBBS
Name:
scribbler_jones (AKA SJ, AKA That Fucking Skinny Black Kid, AKA whatever the fuck else really.)
From:
The Land of Red Clay, Georgia. Born in the Classic City, Raised out in the boonies.
Position:
Well it depends on what she feels like. Huh? Oh damn, not THAT kind. I write matches and participate in the dark, mysterious and occasionally bizarre machine that we know and love as JBW creativity. Really.
Brief Biography:
Four score and seven ages ago, I happened upon EWN by accident. Then I started to blog. Then I started to E-Fed. Then I got asked to write matches. Then I ate pizza.
Favorite Movies:
The Punisher: War Zone; Spider-Man; the first TMNT; Street Fighter II; a bunch of others, but I don't feel like putting you to sleep.
Favorite Music:
I love hip-hop, rock and R&B. Stuff like Talib Kweli, De La Soul, Eminem, Killswitch Engage, Linkin Park, Xscape, SWV, Jodeci...
Favorite TV Shows:
IMPACT Wrestling, Ring Of Honor, OVW (though technically I watch it online) Richie Rich (the cartoon), The Powerpuff Girls, Secret Squirrel, mainly a lot of stuff that has to do with fighting, cartoons (the good kind - not the new stuff) and general awesomeness.
Favorite Video Games:
The Legend of Zelda: A Link to the Past, Super Mario Bros. 3, Super Mario World, Mega Man 2, 4 and 7; Dragon Warrior Monsters; Battlefield 3; Super Street Fighter 4 Arcade Edition (FOOOOOK YEEEEAAAH!!!)
Favorite Comic Book Characters:
Captain America, Iron Man, Thor, Superior Spider Man, Captain Marvel (Carol Danvers), Luke Cage, Nova, Nick Fury, Benjamin J. Muthafuckin' Grimm, Black Panther, and many many other
EL JOSE!
Name:
HolyJose2391, (AKA The Holy One, AKA HJ, AKA Oh My Holy Jose!)
From:
Manassas, VA
Brief Biography:
The newest and one of the oldest members of JBW Creative. Having served on the creative team in the past as well as taking the reigns of AWF from DUBS and making it his own. Born in Fairfax, VA about 30 miles outside of Washington DC. The 22 year old Psychology Student is gearing up for his senior year while also having contributed to JBW since April of 2011.
Interests:
Movies mainly action the occasional chick flick, Dear John made me cry I admit it!
Music:
From bands like Avenged Sevenfold, Blink-182, My Chemical Romance and such to pop music like the Backstreet Boys. No seriously Backstreet Boys is like an obsession!