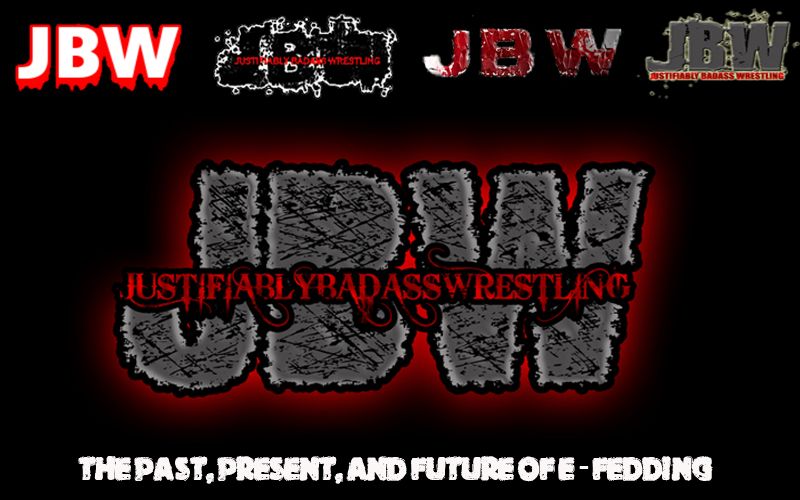 After lingering on the logo of the wrestling company that has caused one controversy after the next for a few moments, the camera pans out to reveal that the logo is on the front of a microphone that has been placed on a desk. Also on the desk stands the latest Ma$$Dinero action figure, inside a JBW ring play set, while numerous other wrestling action figures are laying beside it.

The camera pans out further to reveal the actual real life Ma$$Dinero sitting behind the desk, casually leaning back with his right leg crossed over his left knee, and his hands arrogantly placed behind his head. Laid across his lap is the JBW World Heavyweight Championship that he stole from Malcolm Cage, but due a surprising decision made by JBW management, the championship is now his to defend, officially making him the JBW World Heavyweight Champion. A decision that has disgruntled the entire JBW roster.

Ma$$Dinero: We rolling, Dave?
Ma$$Dinero's manager, and all around right hand man, Dave King speaks from behind the camera.
Dave: Yup. We rolling.
Ma$$: Well alrighty then...
A small smile creeps across Ma$$Dinero's face.
Greetings and salutations, all you wonderful viewers, roster members, and authority figures of IWA alike. As you can see, it is I, everybody's favourite legend in the making, the official, yes, that's right, the OFFICIAL JBW World Heavyweight Champion, Ma$$Dinero, coming to you live and in colour from the JBW Headquarters here in **fake cough and mumble**

The small grin on Ma$$Dinero's face turns into a full on beaming smile. A smile he holds for a few seconds, before it swiftly disappears and is replaced with a serious look. After staring directly into the camera for a few more wordless seconds, he motions his eyes down towards the desk.

The camera zooms in onto the Ma$$Dinero action figure, which Ma$$Dinero grabs around the waist. With his other hand he stands up another action figure, this one being the toy version of Malcolm Cage, and then another of Shaz.

Dave in a mock announcers voice: Oh my gawd, people, this is the match up we've all been waiting for, the three JBW World Heavyweight Champions in one ring. This is for all the marbles, and when I say marbles I mean JBW Heavyweight Championships!! Three men enter, one man leaves as the unified champion.

Ma$$Dinero then pulls on the spring loaded arm of the Ma$$Dinero action figure, before releasing it, knocking over the Malcolm Cage with a spring loaded punch. An action which he repeats on the Shaz action figure.

Dave still in obnoxious announcers voice: Oh my gawd, Ma$$Dinero just hit Cage and Shaz with "My Friend Went To London And All I Got Was A Blood Stained T-Shirt"!

Ma$$Dinero then places the Cage and Shaz action figures onto of each other, after which he stands the Ma$$Dinero action figure on top of them.

Dave: One! Two!! Three!!! And your Undisputed JBW Heavyweight Champioooooon!! MA$$-DIN-EEEEERRRRROOOOOO!!!

Ma$$Dinero then scoops up the Cage and Shaz action figures and crushes the pair of them with one squeeze, leaving them a broken mess of plastic, before throwing them in the waste paper basket beside his desk.

Moving the Ma$$Dinero action figures arms so they point upwards, Ma$$Dinero begins parading the doll around the ring in celebration of its pretend win. He then picks up an action figure of K-Jammin, and repeats the spring loaded punch/pinfall action before crushing it and throwing it into the bin. Ma$$Dinero then picks up a Shuriken Blade figure and smashes it down on the desk, snapping the head off and throws it with the rest of the broken toys, repeating the same action with action figures of Holy Jose, JMan, The Sandman, and Artemis Eclipse.

Dave still in whiny, obnoxious mock announcers voice: Well folks over the last few months Ma$$Dinero has defended that belt against the cream here in JBW. Just who is next for the champ?


The camera pans to reveal that the last action figure left on the desk was a D-Boy one.
Oh, look now, people, here comes D-Boy!!
Ma$$Dinero picks up the D-Boy action figure and snaps both o it's arms off. He then pulls the legs off of it and snaps the head off, and once the broken toy of D-Boy is thrown into the bin, the camera pans up to Ma$$Dinero's still serious looking face.

Ma$$: What you just saw there was basically what is going to happen over the next few months in JBW. You're truly is going to literally crush the competition in brutal fashion.

As you can see, it's going to be all good on my end, but hardly anything new and exciting for me, seeing as I just know it's going to happen. So I kinda went and took a look outside of the box to find new challenges. New and exciting things to keep me from slitting my wrists from boredom. A new playground, as it were.

Well, I've got to say that I'm disappointed beyond belief, 'cause all I found was EWNCW, some whacked-out, special ed comedy fed, and the shithole of a company that I am addressing now. I decided that I was better off staying put, here in JBW.. I mean..

EWNCW? Never in a million years. The only reason I'd ever subject myself to going there is for a match against either TBOZ or Tommy, but they're way too scared to ever face a wrestler and all around showman of my caliber, so that place is out of the question. Always was, always will be. Not an option. Off limits.

APW? I do comedy, on occasion, but fuck that place. It's just weird, and definitely not not my cup of tea. No offence to those associated with it, but I'd be embarrassed to show my face around there. I saw one of their shows, and it was like watching a Warner Brothers cartoon. Perhaps I'll send Mini Ma$$ over there to dominate the competition one day, now that would be funny.

IWA? Place is like the land of the lost. A place made up of little bits of everywhere else all rolled up into one big pile of crap, stuck together with snotty tissues and used band aids, run by a rubbish wedding DJ and a guy who doesn't particularly care for me. I think I'll pass, thank you very much!

So I stayed in JBW, and didn't really give going anywhere else much thought...

Then I began hearing all of these wonderful things about IWA, and how it was the place to be. Well, I never gave it much thought other than "good for them", and "nice to see them making a go of things". But then this...

This...

This fucking annoying twat kept on wanking on about IWA and all the great wrestlers there.

Now, as annoying as his drivel was, something of what he was saying must have got through, because next thing I know, there I was watching an IWA PPV that I actually purchased and watched live.

Dave from behind the camera in his normal voice: What did you think of the show?

Ma$$: Shut up, Dave, this ain't a fucking RF Shoot Interview, nobody wants to hear your shit questions. I'm quite capable of getting to that part without your intervention.

Anyway, I thought it was...
**mumbles inaudible words.**
Dave: What was that?

Ma$$:I said, I thought it was...
**mumbles inaudible words.
Dave: Sorry, Ma$$, you'll have to speak up, that last part wasn't picked up by the camera.
Ma$$: I said I thought it was a good show, Dave!
A very good show.
A+ was the main consensus. A.... +.
Wow... I, uh, wouldn't go that far. A generous A, maybe. Too many losers and arseholes on the show to give it an A+. Sorry, but I say how I see it and when I see it I say it. It's sort of an addiction. My cross to bare. I've learned to accept it, and I just hope that the guys I'm about to mention understand that they were chosen completely at random. Nothing... Personal.

Guys like Smokey.
The guy who runs the show. Been around. I'm pretty sure he was running the show when I had a match or two in IWC. Makes sense that he would be running the show of a bastardised version of the show he was running before. He was a cunt then and he's a cunt now. I'm willing to offer him some advice on how to run a company any time he feels. For a start, how the fuck he can hire..

Guys like Carlos Alberto Ramon

Former champ in HWA. I think. Never really followed him after that place imploded and he kinda dropped off of my radar up until now. He kinda reminds me of one of those Premier League football player tossers I end up having to beat up every time I go to a club when I'm back in London. The sort of flash, smarmy tosser who would try it on with the girl you was with the moment you turned your back. The sort of mackerel who'd go down from one punch and not get up until his mates came to save him...