Name: Chris Starz

Theme: "Black & Yellow"

Bio: Chris Starz is a party/pretty boy but he has no problem getting physical in the ring. He has wrestled and party in every place in the world now he wants to party in a new place.

Finisher: Codebreaker and Spear

Signatures: DDT, Thumb to the Eye, and Leu Theuz Press
HWA would be willing to take him.
(Hopefully this is good and in order)
NAME:
Arius
-weight- 94 kg
-height- 5 ft 8
Nick Names
* The Paragon of Intensity
* Mr. Prestige
* The Prodigy
* The Voice of The Damned
Look/ATTIRE/GEAR

Theme Music:

<strong>
Entrance Motion:

<b>
Finishers:
The Final Touch
Devine Retribution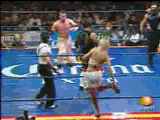 Kingdom Come
SIGNATURES
Walls of jericho, Shooting Star Press, Pop-up European uppercut
-Common Moves-
ButterFly DDT
Top rope butterfly suplex
Running knee to gut.
Kimura Hold.
Inverted armbar.
One Inch Punch.
Crossface
Karate Jabs.
High Kick to back
Anaconda Vise
shining wizard
Heel/Face
= Tweener
GIMMICK
Arius will often and frequently switch moods, along with that his allegiance is always in question. He'll just as surely be your friend as stab you in the back. He'll often take things to heart, thinking deep about the most simple comment.
Bio

Born: December 21, 1990 (age 21, Hiroshima, Japan
Resides: Blue Mountains, New South Wales, Australia
Arius spent the first 5 years of his life living in the orphange until being adopted by Pastor Nathan and Rebecca Roberts, who lived in Australia.
Arius found intrest in wrestling after going to a mates house and watching an Episode of Monday Night Raw. After seeing this he knew what he wanted to do after school
Arius began training for a career in pro wrestling after graduating high school . He received his initial wrestling instruction from Greg Bownds at the AWF wrestling school where he met Alice becoming great friends and eventually starting a relationship. At the age of eighteen Arius travelled to Japan with Alice where they got engaged , finishing his wrestling training at the New Japan Dojo then working for a number of different promotions, including two matches for Pro Wrestling Noah before leaving the "Land of the Rising Sun" to try his luck on the US independent scene.
__________________________________________________ __________________________
(Arius manager/valet and Wrestler)

Name:
Alice
Theme:

<strong>
ENTRANCE MOTION
: Daffney TNA Entrance
FINISHERS:
Decimator - Superkick to the jaw
Seduction of the Innocent - Double Knee Facebreaker
SIGNATURES
Falling From Grace - Moonsault
Tarantula
ATTIRE/GEAR
Heel/Face
= Tweener
Bio
Alice grew up in a suburb right outside of Melbourne. Throughout her childhood and high school she competeted in gymnastics, hoping to one day make it to the Olympics..that is until an episode of WWE Smackdown caught her eye. Of course back then it was WWF..she The Hardy Boyz and Lita in a six man intergender tag match with The Dudley Boyz and Stacy Kiebler. From that night she vowed that she wwas going to one day do that.
At the age of seventeen, Alice moved to NSW to train at AWF wrestling school where she meet Arius, Becoming great firends and eventually starting a relationship with Arius she went over to Japan where they got engaged
She is as tough as they come and can lay out any Women or Man in seconds.
_________________
Stable:
Congregation of the Damned
Theme: Congregation of the Damned by Atreyu
A Once Mighty Stable now in shambles still has Arius and Alice searching for worthy
disciples
to join and rebuild the Congregation
HWA would love to sign you.