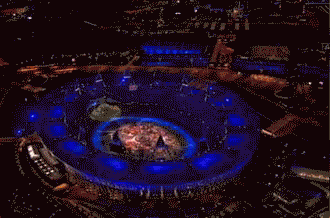 Chris Mason: Welcome ladies and gentlemen to EWN Grand Prix.We are gonna start the show with the host and GM of the show Jason Myers.



Here comes the Boss!!!
*Jason Myers comes out from the back to a huge reaction from the fans.Also with him are the 4 hot girls with the EWN Grand Prix Champio
n's trophy.
The boss walks down the ramp, climbs the steel steps then the 2nd rope and into the ring.Myers goes to the corner picks a mic ,before coming back to the center of the ring.Myers raises the mic to speak.*

Myers: Welcome all to EWN Grand Priiiiiiixxxx!
*The fans cheering very loudly this time*
Myers: What a show we have for you tonight ladies and gents.The final 4 men will battle for that trophy over there.


*He points at the girls who are holding the trophy.Some cheers from the male fans*
Myers: But as you all know the winner will also leave from this stadium tonight with a $100 000 check and a guarantee spot in the CHAMPION OF THE CHAMPIONS TOURNAMENT at the end of the next year.


* Cheers from the fans *


Myers: This is what are you gonna see tonight.January 6 we will have our first show for EWN Grand Prix #2 and what a fight card we have for you people.Orion Slayde will go one on one with Mr Smyth .Mike Hawk will face AJ Dixon and Ali Kazam will face Kaige Chamberlain.Also on the card Kyojin will face...


* He stops for a few seconds *


Myers: Well that was a problem we had to solve in the past few weeks we couldn't find a wrestler worthy enough to join the roster for the 2nd show.But that problem was solved two days ago.I got a call from a guy who is not only worthy to compete here in Grand Prix he is also a perfect opponent for a great wrestler like Kyojin.Ladies and gents Kyojin's opponent is this man....
*There is a pause, as everyone looks to the entrance stage, waiting to see who walks out from the back.*
?????????
Chris Mason: Omg is Chris Divine.Chris Divine is the 8th man
Madison: He is Kyojin's opponent.What a great match for Grand Prix 2.Can't wait for that.
*Chris Divine walks out from the back to a big pop from the fans. He has the JBW Intercontinental Championship on his shoulder, as he walks down the ramp and into the ring. Divine walks over to Myers, taking the mic from him, as Jason Myers and the girls climb out of the ring, and head up the ramp into the back. Divine stands at the center, as a Divine One chant breaks out. Divine raises the mic.*
Divine: Ever since the names came out from the next Grand Prix, people have been in a ruckus as to who this mystery man was. Some have stipulated it was Tommy Thunder, others have guessed it was Ma$$Dinero, and even some speculated it was Van Hooligan X. For those wishing and dreaming for one of those ego inflated chumpettes, you can be sadly disappointed. For those wishing for someone with true talent, you all can rejoice in the fact that the Divine One has come to this tournament. Now, this is the moment where Divine is suppose to address Kyojin, and each person in this next tournament, and frankly, Divine is looking forward to getting a 1 on 1 rematch against Kyojin after Divine's loss in IWA a few weeks ago, but Divine is going to step out of the box for a second, and address someone Divine has had an issue with.

*The fans all sit there, unsure of what's to come next.*
Divine: You see, when Divine first burst onto the big scene, there was someone Divine could call a friend. This man is in the first Grand Prix tournament. You all know him as Artemis Eclipse..Divine knows him as douchebag. Now see, douchebag and Divine spent time together in ICW, and during that time, Divine thought Eclipse was a decent guy during that time. And Divine doesn't mean "good guy or bad guy" type of decent guy, no..Divine meant Artemis was a decent human being. But the longer Divine spent with the guy, Divine realized more and more this guy was a tool. Then ICW closed. Then after that came a company called SRW.
*All of the fans now chant what.*
Divine: Oh Divine is sorry. Do you all not know what SRW was? Oh...that's right, SRW was around about as long as a blink of the eye.
*Divine glares into the camera, and blinks.*

Divine: Just like that, SRW was gone, and replaced by an even better company called IWA. Now, let Divine give you some history on these companies. Divine's good friend is the man behind IWA, and Artemis's good friend was behind SRW. Now, when people heard IWA was coming, they left SRW in droves, literal droves! Have you all been on a sinking ship, where the captain won't admit it was a sinking ship? Or even better, have any of you been in a car that just won't start? That's what SRW was. That company, everything and everyone behind it, might have been a great idea in concept, but much like most of the things Eclipse is associated with, it just never has that spark to really get going. Divine means, look at BITW. Eclipse's buddy behind SRW, is now 1/2 of the power behind BITW, and where has the company gone? Oh...that's right...no freaking place!
*Divine has a look of anger on his face.*
Divine: Now, after all of this debacle, Eclipse became a huge prick. Talking as much trash as he could about anyone associated with IWA. Now, let's face facts. Divine has been a part of HWA, JBW, EWNCW, and ICW, but when the dice roll and it all comes to the surface, ICW and IWA has been Divine's home, so anyone talking trash on that company, is a chumpette in Divine's book. So, Eclipse goes on talking all kinds of smack, and for the longest time, Divine has bit his tongue, being told by other wrestlers "Don't play into his games, don't sink to his level", and for the longest time, Divine has sat idly by, keeping his mouth shut, but that was until he came across this.
*Divine reaches into his back pocket, pulling something out. He unfolds it, holding it in his hands.*
Divine: Now for those who don't know, in wrestling, there are what is called scripts. Mainly what happens when. Well, a few weeks back, Divine got his hands on this script.
*Divine puts the script to the screen of the camera, and we see the words, BITW 1: Kingdom Come*

Divine: Divine did some reading of this script and the one thing that caught Divine's eye was a moment midway through. It's where the IWA World Heavyweight Champion, Shaz, and Artemis Eclipse, get a chance to speak. A side note in there, is roughly about 10 to 20 minutes for Eclipse to share any of his thoughts. That's called a shoot. That's what's happening now. So, when Divine read this, Divine knew that Eclipse was going to take the chance to talk trash on Divine, Divine's friend behind IWA, and anyone else who Divine calls a friend. So, when Divine was asked by Jason Myers to come to the Grand Prix, Divine accepted. Divine came here, and agreed to this, simply to prove one thing. As big as Artemis Eclipse might ever think he will become, Divine will always.....let me repeat...ALWAYS...be bigger and better than Eclipse. Now, Arty, you could prove Divine wrong tonight and win this tournament, but frankly, Divine thinks either Israel Pamich or Brock Edwards is going to walk away with the cup. If you happen to though, you can go home, or better yet, you can go back to that piss poor company you call a home, BITW, and hold your little cup, and watch, as Divine tares through Kyojin, and all the other competitors in the second tournament, to become a grand prix cup holder. When it's all said and done, Divine will always be better than you chumpette. Know this Arty, when the day comes, because with people like us, it's not a matter of if, just a matter of when...when our paths cross, whether it be later in 2013 in the culmination of these tournaments, or anywhere else, when we finally go 1 on 1 for the first time ever....Divine will drop you on your ass and make you look like the punk ass bitch we all know you truly to be. Best of luck Arty, you are going to need it.

*Divine drops the mic, as the fans explode as Divine stands holding the JBW championship high into the air.*
Madison: Well there you have it.Chris Divine is the last man on Grand Prix

Chris Mason:
This is the only thing you have to say after what you just heard?
Nevertheless EWN Grand Prix continues with our first semifinal of the right after this break.



*Commercial*