The theme for Chaos blares over the PA system, as fans are piling in, but the music is cut off by something else.


Darius


Darius makes his way onto the stage to a chorus of boos with a microphone in his right hand and his TWE Championship around his waist. He looks around at the crowd slowly and brings the microphone to his mouth and the crowd boos even louder.
Darius: Would you all just listen to yourselves for just three seconds? You all sound like a pack of mentally challenged baboons. You dare boo the TWE World Champion? You dare boo the future IWA World Champion? Well, that doesn't surprise me, honestly. You all enjoy watching cheating pricks using weapons or listening to hicks try to talk like a ... "Gangsta", but I guess that is your language, isn't it you inbred hillbillies?
The crowd explodes with boos and chants "You suck!"
Darius: I suck? I suck!? Where is your world championship!? Huh?! Where is it?! That's right, none of you have one because you are all FAILURES! Yeah, that's right! FAILURES! Just like that failure known as "Primetime" AJ Dixon! Last week, I pinned his ass! That is right, folks! Shoulders to the mat! One, two, three! Dixon claims he deserves a one on one world championship match against KJ Punk, but what the fuck has he done to deserve that championship match at all!? NOTHING! I beat his ass last week, so he should be pulled from the match! He is nothing but a stain!
The crowd has a mixed reaction because the heel Darius is trashing the heel Dixon.
Darius: Speaking of stains ... The main event for tonight is a 12 man tag team match. I like to call it "Team Failure", which consists of KJ Punk, Kyojin, Sagittarius Blue, Malcolm Adonis, Jackson Smith and Shaz.
The crowd explodes with cheers, cutting Darius off and rooting on the team of faces!
Darius: Shut the fuck up! Those failures will be facing the team I call, "Team Darius", which consists of Mr. Smyth, AJ Dixon, Shining Light, Killa, Mike Hawk, and the worlds greatest champion ... Darius!
The crowd erupts with a chorus of boos and "You suck!" chants!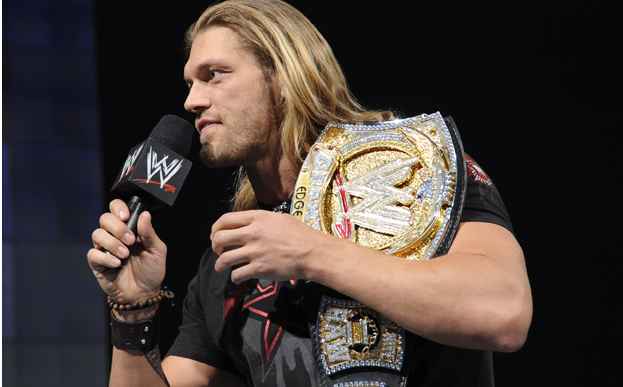 Darius: You are all so fucking annoying, do you know that? The five men on my team ... They have talent, well ... Some of them do at least, but that doesn't matter, because I am their captain, whether Daniel May says there are captains of the teams or not! I will lead my men to certain victory! Team Failure ... Hell, we are just going to squash them like the little bugs they are! Everyone knows they are going to cheat to win!
The crowd boos and starts to chant KJ PUNK!
Darius: Yes! Him! He used the steel chair on me to make me bleed at Thirst for Blood! That coward had to use a weapon to ...

KJ Punk
KJ Punk walks out with the IWA World Championship around his waist as the crowd erupts at him interrupting Darius. He gets in the ring and raises the championship into the air, right in Darius' face. He takes a microphone as he smiles.
Punk: Darius, Darius, Darius. You sound like a broken record. Waaaah, waaah, I got hit with a chair and it made me bleed. Did you forget that you're the one that was holding the chair? Did you forget that you had already used that chair as a weapon? Did you forget that it was a first blood match and there ain't any rules in a first blood match homeboy. What's gonna be your excuse for when I put you through a table at Lost Cause? You tripped? It wasn't an IWA regulation sized table?
The crowd pops at KJ's mocking of Darius.
You come out here with championships with different feds like they mean something. They don't count for shit here, jack! You see this?
KJ raises the IWA World Championship into the air
This means I am the best in IWA. I don't care if you're the world champ in TWE, JBW, EWNCW, HWA, WWE, TNA, FTW, OMG, LOL or any other fed! This means I am the cream of the crop here and that every other competitor here is coming for me.
The crowd pops as they start another "KJ Punk" chant
Now let's talk about tonight. On "Team Failure" as you put it, you have the Money in the Bank Briefcase winner, Shaz. Malcom Adonis. Jackson Smith. Sagittarius Blue. The IWA Endurance Champion, Kyojin. Oh and the IWA World Heavyweight Champion, K! J! Punk!!!
The crowd pops after each name.
On Team Douche, I mean Team Darius, you have Mr. Smyth, who Kyojin's beaten twice before and will again at Lost Cause. Killa, who's gonna lose to Jackson Smith at Lost Cause and never win the Endurance Championship briefcase. Shining Light, who I'm not even sure if he's won a match here in IWA. Mike Hawk, who I beat last week and who Shaz will beat at Lost Cause. That sounds dirty.
The crowd laughs
And that brings me to you and AJ Dixon. The two men that I defeated for the World Championship and the two men that I will defeat again at Lost Cause. Sheesh, with this track record it's really YOUR team that should be called Team Failure. Especially after I put both you AND AJ through tables this Sunday and …