8.) The Re-Match 2 Years in the Making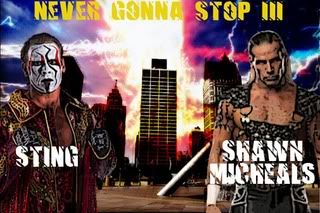 Sting vs. Shawn Michaels



2 Years Ago: Sting and Shawn Michaels would main event the very first Never Gonna Stop in a battle that would make the wrestling world talk for months in they're very first match against each other. After the match with his hand raised in victory Sting would disappear from the UWA for more then a year.
Sting:
Why did I disappear from UWA? Beats me. Ask Dana or Paul.
For a year Shawn Michaels stood in the spotlight of the UWA only to disappear from television after battling old friends and enemies. Then from the shadows came Sting. For months Sting would call out a mystery opponent. For months Sting's mysterious clues as to he wanted would baffle the UWA. Only when he began to target members of the infamous Klique did the message all become clear.
Sting:
You know what the best part about beating Kevin Nash, Sean Waltman, and even Triple H was? The fact that I've been waiting to do it for so long. The fact that I know Shawn Michaels was sitting at home watching. Watching like a coward as his friends mercilessly got beaten
It all came to a head at M.I.A as Sting locked in the Scorpion Death Lock on Triple H it was the surprise return of Shawn Michaels that shocked the Stinger. However it was still Sting that left the arena smiling.

Dana White:
This has been one of the most interesting feuds all year long. I mean you've got Sting whose dying to get his hands on HBK and has been calling him out for the past year straight and beating the hell out of his friends. Shawn is pissed.
Mike Tenay:
You know the most interesting aspect of this match? Shawn hasn't been seen since M.I.A when he saved Triple H. He has only accepted this match. He has been very quiet. When these two legends meet for the second and last time it's going to cause fireworks that we never thought was possible in this match.
Now on the biggest stage of them all two icons and legends will meet one last time. Only one will walk away.

Paul Heyman:
Oh Sting takes it. Hands down
Mike Tenay:
I see the Insane Icon Sting taking the win
Dana White:
I'm not too sure who takes this win home. I think the fans and us are gonna be the ultimate winners
At Never Gonna Stop III "The Insane Icon" Sting takes on "The Showstopper" Shawn Michaels




9.)Main Event


Tyler Black vs. John Morrison(c)
UWA World Heavyweight Championship Match

In June at Burn It Down Tyler Black was able to over come the odds and earn a #1 Contendership to the UWA World Title. Who the champion would be remained a mystery. But after defeating Jeff Hardy, Raven, Kaz, Bryan Danielson, and even Kurt Angle the only two time UWA World Champion John Morrison would hold onto his title. However with new found glory came a new found attitude for The Champion.
John Morrison:
I am the ONLY 2 Time World Champion. Nobody is better then me. And just like I told Shane McMahon, I'm more perfect then Henning, and more phenomenal then AJ Styles, more ravishing then Rick Rude. I am the TOTAL package! Lex Luger doesn't have ANYTHING on me
Calling himself the Total Package, John Morrison has taken a new step towards greatness by putting away some of the top legends in the bushiness.

Mike Tenay:
Morrison has become the least respectful person on this entire roster. Insulting legends of the past. Having the audacity to call himself "The Total Package", Morrison's mouth has become his biggest enemy.
John Morrison:
I could care less what these sick pathetic people think of me. I'm everything that their girlfriends want and everything they want to be. I am the GREATEST of all time.
However to prove himself John Morrison must defend his title one last time against a hungry challenger whose refusal to quit and remarkable will makes him the most dangerous man Morrison's ever faced.
Tyler Black:
You know when you get a World title shot it's huge. When you get one on the biggest Pay Per View of the year it's ever bigger. But when you first World Title shot is the very last one you'll ever get, and you could walk out of the company as the very last World Champion, it's a once in a lifetime opportunity and I'm not gonna succumb to the pressure. I thrive under the pressure.
With the most dangerous challenger he's ever faced Morrison's UWA World Title is in serious jeopardy. Who will prevail as the FINAL World Champion?
The Challenger Tyler Black faces UWA World Champion John Morrison