JR: Well it's time for the Intercontinental Title to be on the line in a triple threat match between Undertaker, Randy Orton, and champion Tyler Reks. And this started after Reks successfully defended his title against Kevin Steen. Undertaker came out and attacked Steen sending a message to Reks that he was coming
Bischoff: Well Orton wasn't going to let Taker steal the spotlight from him. Orton, the legend killer, was out to destroy the legend of Undertaker and got wrapped up in Taker's pursuit of the Intercontinental Title.
JR: Well Reks is a fighting champion he won't go down and be overshadowed by these two men and their rivalry.
Bischoff: Well here comes the legend killer, and not only will he destroy the legend of the Undertaker tonight, but he will also become Intercontinental Champion
JR: Well he is a former Intercontinental Champion so he has been here before and does know what it takes to win. Could Orton win the Intercontinental Title again? It's possible
JR: And here comes the Phenom, the Undertaker! Now Taker has done pretty much everything there is to do in this business, but one thing he has never done, win the Intercontinental Title.
Bischoff: That is true, but he has always been in the spotlight, and he has won the big one before, he knows what it takes to win the Intercontinental Title
JR: Could Taker add to his illustrious resume tonight?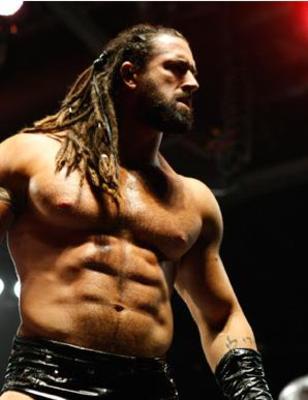 JR: And here comes the Intercontinental Champion, Tyler Reks! Don't expect him to lay down to these two men. Reks has defeated all comers thus far and I assure you he looks to do the same tonight
Bischoff: But the people he beat don't match the level of Randy Orton and the Undertaker. He has never been in a match of this magnitude. His inexperience may cost him.
JR: We shall see
Match 7: Tyler Reks (Cena) vs. Undertaker (HHH) vs. Randy Orton for the Intercontinental Championship
0:00-19:25
Orton pulls 'Taker to his feet, and throws him between the ropes to the floor. He bounces off the ropes, before landing a running knee on Reks. Next, Orton climbs to the top rope, as the crowd jeers. Reks gets to his feet, as Orton goes for the Diving Crossbody, but Reks cuts him off with a dropkick! Reks covers

1.........2........Kickout!

Reks is shocked, and pulls Orton to his feet. He whips Orton into the ropes, and on the return, lands a stiff clothesline. Orton falls down hard, as Reks drops an elbow. He once again, pulls Orton up and sends Orton into the ropes, going for another clothesline, but Orton ducks. Reks then turns around, and goes for a dropkick, but Reks catches his legs! Orton falls on his back, as Reks drags him towards the corner, and slingshots him into the turnbuckle!

Orton then falls to the mat, as Reks lands a big kick to the chest, sending Orton to the apron. Reks pulls Orton up, and suplex's him into the middle of the ring. He then goes to the corner, and goes for his springboard moonsault, but Orton gets his knees up!

Orton then climbs to his feet, and notices 'Taker standing on the outside of the ring. Orton then takes out 'Taker with a baseball slide, before turning to Reks, who is on his knees. Orton pulls him up, and lands a neckbreaker! Orton covers

1......2......Reks powers out!

Orton grabs the arm of Reks, and attempts to twist into an Oklahoma Roll, but Reks places his head between Orton quads, before getting to his feet, Orton on his shoulders. He goes for an Electric Chair drop, but Orton manages to get to the turnbuckle, and avoids falling by holding the top rope.

Orton then lands elbows to Reks' head, causing him to fall onto a seated position on the turnbuckle. Orton pushes Reks into the middle of the ring, before landing a Missile Dropkick! Orton covers

1........2........Undertaker pulls Orton out of the ring! 'Taker lands a big right hand, causing Orton to stumble into the steel steps. 'Taker then grabs Orton from the throat, and lifts him up for a Chokeslam, but Orton kicks 'Taker's knees, releasing the grip.

Orton then throws 'Taker into the ringside barrier, before grabbing his legs, and placing them on the steel steps. He then pulls 'Taker's head up, and goes for the modified DDT, but 'Taker lands a Low Blow. Orton falls on his knees, as 'Taker places his head between his legs. He lifts him up for a Powerbomb, but instead lands a Last Ride – but Orton is sent into the barrier!

'Taker enters the ring, and pulls Reks up. He grabs the arm, and twists it over his head, before climbing the turnbuckle. He goes for Old School, but Reks pulls his arm, so 'Taker falls onto Reks' shoulder. Reks calls for the Burning Hammer, but 'Taker slips out. Reks turns around, but 'Taker grabs his neck. He once again goes for the Chokeslam, but this time – it connects!

'Taker then signals for the Tombstone Piledriver, and when Reks' gets to his feet, turns him upside down. Before 'Taker can drop to his knees, Reks' rolls through, and takes down 'Taker by pulling the leg. 'Taker is on all fours, as Reks goes for the Springboard Moonsault, but 'Taker catches him!
JR: Tombstone! Tombstone!
Bischoff: No! Orton needs to win this!
The Tombstone Piledriver connects, and 'Taker does his cover, and rolls his eyes backbreaker
1.........2........3!
JR: We have a new champion! Undertaker is the Intercontinental Champion!
Bischoff: This is rubbish! 'Taker low blowed Orton
!
JR: It's legal – it's a triple threat match! And now 'Taker's illustrious career is now complete!
Bischoff: For the majority of his career, 'Taker has been one of the WWE's go-to guys. One of the most deserving people of being champion. But Orton should've won!
JR: Well he didn't and in the end Undertaker won and is our new Intercontinental Champion, congratulations to him on adding something to his career that he has never done before. Up next is the battle of men who really don't like each other, The Rock and Dean Ambrose.
The fans are screaming as the electricity for SummerSlam is deafening. However, the Titantron goes from the SummerSlam logo- to the parking lot as there are fans outside the park watching superstars walking out of their cars. One man, in particular- is the masked man that has been attacking CM Punk. The fans are screaming YOU SUCK as the masked man ignores the jeers. However, he's approached by Josh Matthews who has a mic with him.
Josh Matthews: Hello Masked Man, can I have your attention?
The masked man keeps walking as Josh follows him.
Josh: Sir, there are some questions that I want you to answer.
The masked man ignores him, as he walks into the arena.
Josh: Sir, may I ask you some que-
The masked man turns around, and pushes Josh to the floor. He picks Josh back up, and pushes him against the wall.
Masked Man: Listen to me. You need to sort your bloody manners out. Then, you can think about asking me questions again you parasite.
Masked Man threatens to punch Josh, but he doesn't as Josh jumps. He walks off, as Josh comes running from behind again.
Josh: Sorry about this! Good evening sir, please may I have your attention.
Man: Better.
Josh: Sir, please may you also answer some questions- that I have set up for you.
Man: Sure.
Josh: Okay, so sir. Right now, you remain anonymous. So please may I have a hint, on your wrestling background. Do you have any experience in the ring?
Man: What kind of question is that? Oh god, well. Course I've got a wrestling background. I wouldn't just randomly attack CM Punk without a background, would I? Trust me, if I was a fan- I would've had my ass handed to me on a plate. But that won't be the case tonight, because Punk doesn't know what he is up against.
Josh: Fair enough, I'll follow with a simple question. How do you feel, heading into this match against Punk?
Man: It feels great. Knowing that I'm just seconds away, from ending CM Punk's wrestling career is just an excellent feeling. But either way, my head will still be in the game. It's a bit too cold in this damn arena, and I'm not thinking about taking this mask off for a long time. I'm gonna pin Punk 1-2-3, and that bell will ring for the second time. And once it does, I know I'll be the rightful winner. So I'll beat him down after the match, so I can give him a final present- his final victory in the WWE...via disqualification.
Josh: Strong words. Now final question, but very simple. May I have a valid reason, on WHY you attacked Punk?
Man: Desperate questions don't deserve answers.
The man pushes Josh, before walking away. And the camera fades to a break
Commercial