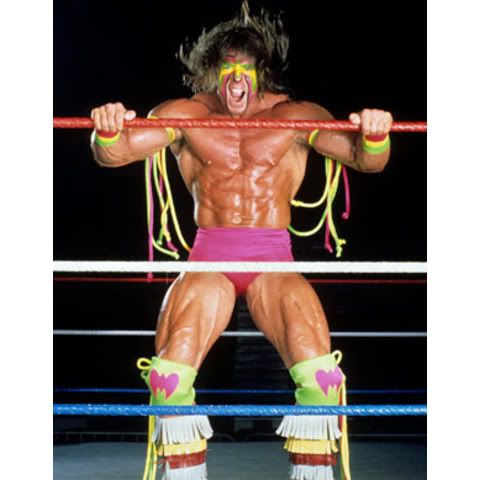 JR: And here comes the former WWE Champion

King: Former, yes. Yesterday he was proven to be nothing but a loser

JR: He was still champion for 2 months King. He is far from a loser-

King: But he's not a champion

*Warrior rushes out down the ramp and circles the ring 125 times while Jericho is still hoisting his title up. Also while Warrior is running around the ring, Coach and Ric Flair are walking down the ramp- Coach in Warrior garb, Ric in an expensive suit. Ric is carrying something that is all bundled up- but no one can see what it is. Finally, Warrior stops his running and waits for Coach and Ric to enter the ring before entering it himself. Warrior shakes the ropes before getting right in Jericho's face.*
Warrior: COACH! MICROPHONE DEVICE! NOW!
*Coach reaches down his trunks and pulls out a mic, sticking it in Warriors face.*
Warrior: Before I say something to you Jericho about my title that you now have in your possesion of my title my manager Ric Flair has something to reveal to the world that was a creation of the most wonderful creation of all- the Ultimate Warrior. Who is that you ask? It is me. So Ric, with and without further ado- please remove the covering of what shall be uncovered for the world to see.
Ric: WOOOOOOO! THIS IS A PRODUCT OF THE MOST POWERFUL FORCE IN THE WORLD, IN ADDITION TO BEING A PRODUCT OF ONE OF THE BEST IN THE SPORT OF WRESTLING!. I GIVE TO YOU! THE WWE UNIVERSE - THE
*pulls off the cover to reveal what looks like a baby dressed up in Warrior garb- but the 'child is as muscular as Warrior*
NATURE BOY WARRIOR! WOOOO! HE IS A PRODUCT OF WARRIOR AND MY DAUGHTER ASHLEY MATING, MIXED IN IS PROBABLY A BIT OF ME AND COACH. WOOOOOOOOOO!
Warrior: And he shall be the future of this sport along with me- the Ultimate Warrior. Ric, place him down
*Ric places Nature Boy Warrior on the mat, and the 'child' immediately does a Ric Flair strut and lets out a loud growl. The Nature Boy Warrior then runs up to Jericho's leg and looks like he will hump it. Jericho just looks down in disgust.*
Warrior: Little one, know your manners. Use Coach's leg.
*The Nature Boy Warrior runs up to Coach and starts humping his leg. Coach just stands there and lets him, but doesn't look happy about it. The Nature Boy Warrior is grpwling the whole time he humps Coach's leg*
Warrior: Now Jericho, as you know, I, the Ultimate Warrior held that belt before you and henceforth the title is still really mine. It is covered still in my protective juices, for I can smell it But since you seem to thing it is yours, I will evoking what you think is unvokably- I will evoke my rematch clause for a match to get that belt back to its rightful owner- me- the Ultimate Warrior. And to make sure there will be no cheating by you, or no steroid freak like Lex Luger to try to get involved in our match, I talked to Teddy Long. What he told me is what he told me- its is a match that has never happened before in the WWE- it will be a match between the two of us that shall take part in steel cage. This is something that has never happened before on WWE Raw so it will be a first- you and I will make history.
Flair: WOOOOOOO! AND SOON WARRIOR YOU WILL BE A 50 TIME WORLD CHAMPION LIKE ME! WOOOOOO!
*The Nature Boy Warrior has finished humping Coach's leg and rushes to Warrior for a hug, then rushes to Ric and growls and grunts until Ric picks him up, Nature Boy Warrior quickly falls to sleep in his arms*
Flair: WOOOOOO! JUST LIKE HIS GRANDPA! HE GETS OFF, HE GETS OFF THEN TAKES A NAP! WOOOOO! JUST LIKE I DID AFTER HAVING SEX WITH YOUR WIFE AFTER WRESTLEMANIA JERICHO! WOOOOOOO!
Coach: That was me, you made me wear a blonde wig you sick fuck. As far as that kid there, you guys do know it takes nine months for a baby to come out after conception to birth. You guys didn't ...
Warrior: Whoa! The Warrior seed grows fast, much faster than a regular humanoids seed. You should know that, my seed grew fast inside you, making you the Warrior that you are.
Coach: Well yeah, but nine months?
Warrior: The Warrior Gods deemed it so
Ric: WOOOOOOOOOOO!
Warrior: Growl
Flair: WOOOOO!
Warrior: Growl
Nature Boy Warrior:
*wakes up*
growl


*The commentators are silent before a fit of laughter breaks out. Jericho and Warrior goes noes to noes, as the camera cuts to the parking lot where it shows a black limo with blacked out windows pulling up, the limo stops and the cameraman pushes up towards the car and points the camera at the door, after a few seconds the door opens and the crowd quickly cheer with excitement as Shane McMahon steps out with a big smile on his face..
The Limo pulls away and Shane begins too make his way entering the building and walking through the halls.. after Shane is shown saying hello and being greeted by some superstars and staff members it shows him stopping outside a door, the camera spins towards the door and it's now shown to be Vince McMahon's office, after Shane knocks on the door he's quickly told too enter, Shane enters the office and Vince quickly greets his son before closing the door on the cameraman
The cameraman however does not leave and try's to listen what is being said.. the only thing that can be made out is Vince saying "have you thought about that idea?.. well do we have a deal?" but before the fans can hear anymore the door opens up again and Shane tells the cameraman too go away with a smile across his face and once more closes the door*
JR: Shane McMahon? Again here.. tonight? Something tells me that something big is about to go down King!
King: I agree but what Ross? Why is Shane here? What deal? I don't know anything about any deal.
JR: I have no idea! I have a feeling we will find out in due course though King..
King: I hope so! I'm excited too find out what they could be on about.. Maybe it's another NFL attempt or maybe another blockbuster movie?
JR: But why Shane? I can't see it King..
Commercial