JR: What a way to kick off the show folks! Rocky & Undertaker just showed us all how it's done!
King: Well up next, we've got our seventh, and penultimate Money in the Bank Qualifying match!
JR: Here comes AJ Styles! This kid has got talent!
King: Who is he?
JR: He's phenomenal!
King: That doesn't answer my question!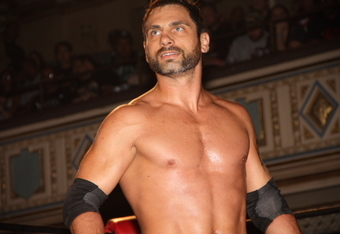 JR: This guy lost in the US Championship tournament last week at the quarter final stage- but he has a great chance right now!
King: I hope he can do something about this CJ Kyles.
JR: What the hell? It's AJ Styles!
King: Same thing!
Match 1: AJ Styles vs. Austin Aries in a Money in the Bank qualifying match
*AJ has the headlock locked in and Aries struggles his way to the ropes, forcing AJ to loosen his grip and get off him. He just releases him before the 5 count*
King: What a match this is!
JR: Both these men showing tremendous fight and heart to secure their place in the elusive Money In The Bank match at Wrestlemania!
*AJ is distracted and Aries takes advantage with a huge DDT! *
King: Yes, its overrrr!!!
*Cover. 1.....2..........NOOO! AJ Kicks out at 2.99999! Aries can't believe it, and he takes his frustration out on Styles, hitting him with punches and knees to the back. He turns to the crowd, taunting them, and before he can react, Styles gets him with a rollup, but he kicks out at 2! Aries is now incensed and he beats AJ down, and the ref has to pull him away from Styles. He drags him to his feet and begins laying into him. But AJ fights back with rights and lefts as the crowd fully get behind him. Seemingly encouraged by the support, he knocks Aries to the floor and when he gets up, he hits him with a Missile Dropkick, flooring him. As soon as Aries gets up, he walks straight into a Pele Kick. Cover!
1.........2............2.99...........kickout!!! Styles can't believe it but soon regains his composure and slides to the outside. He springs onto the ropes and hits the Superman Splash!!! He crawls over for the cover
1........2..........3!!!!*
JR: What a slobberknocker that was, AJ is going to Wrestlemania as part of the MITB ladder match, but what does the future hold for 'A Double'???
*Styles rolls Aries out of the ring and calls for a mic as the crowd go wild for AJ!*
Aj Styles: When I signed for the WWE I didn't know what to expect, but now I have a good idea of it. I was in TNA and I remember lots of horrible stories from over here. I made a promise to myself never to come to wwe ever since. But now I see they were all wrong. WWE has what TNA always had and it was better.
*crowd cheers*
I mean you guys are just great and everybody is treating me well and everything and now I have an opportunity at the grandest stage of them all. The place where legends are born and the place where it's my time to shine. I promise you all in my money in the bank match not only am I going to steal the show. I am going to win money in the bank.
*crowd cheers*
WWE is giving me the opportunity for a reason and I will not fail, the fans, people backstage and my fellow ex tna friends are with me on this they want me to win money in the bank. At Wrestlemania, I promise you…….I will not fail and Warrior I'm coming for you.
*Aj drops the mic and celebrates with the crowd some more*
*Miz walks in to his locker room and sits down in front of his locker. Out from the bathroom comes Mr. Anderson, who wipes his hands on Miz.*
Mr. Anderson: Well Miz are you happy now? I must have been sick last week because I was generous and gave you, of all people, and Intercontinental Championship match at Wrestlemania! You done whining and complaining now?
Miz: Firstly.. what the hell are doing in my locker room Ken? Second, You cant back out now Anderson.. the match is made and at Wrestlemania I will beat you and prove once again why I am.. the most must see superstar in the WWE today!
*Mr. Anderson grabs Miz's shirt from his locker and sneezes in it, then throws it at Miz.*
Mr. Anderson: Sorry I'm allergic to bullshit. You have your championship match you can stop acting like we had a deal Miz, you should know that being the Head Asshole in Charge of the WWE that I don't make deals with people, especially people like you.
Miz: Very funny.. look at everyone laughing, well I will be the one laughing at Wrestlemania, when I'm wearing that Intercontinental title around my waist! wait.. what do you mean people like me?
Mr. Anderson: Yes people like you Miz, people with fauxhawks.
*Mr. Anderson uses his hand to mess up Miz's fauxhawk. At this point Miz is fuming with Anderson's antics.*
Miz: What do you think you are doing? You come into my locker room.. use my stuff, try and mess up my movie star good looks and hair.. well let me tell you something Anderson, If it was not for our match later on tonight I would just give you the skull crushing finale right here.. right now and you would not even make it too Mania!
Mr. Anderson: Looks like someone is getting a little angry. Look Miz I didn't come here to antagonize you and try to play mind games with you, or maybe I did, to get you off your game for Wrestlemania. Let's face it your game isn't going to be good enough to beat me. At Wrestlemania I begin my quest to bring back prestige to the Intercontinental Championship when I defend it for the first time against you. And after I beat you, I will move on to the next challenger and you will go to the bottom of the list of contenders. And soon enough everyone will realize that the most valuable title in the WWE is held by an asshole, and will try to take it off me, but I will win and main event every Pay-Per-View with this title.
Miz: You really believe that don't you
*Miz laughs*
You are nothing but a reject that used underhanded and sneaky ways too get back here and put yourself in a position too win that title.. and don't forget, you can deny it.. But you have that title because I helped you.. I came here and did myself, everyone doubted me.. and look at me! I'm a movie star with the best looking women in the world on my arm, I'm a former WWE Champion! I'm the most must see superstar of this generation! Yeah and one more thing.. I'm awesome!
Mr. Anderson: Miz in my mind you really aren't awesome… more of a tool if you ask me, you might as well embrace it, like I embraced being an asshole, look where it got me.
*Mr. Anderson holds up the Intercontinental Championship.*
Speaking of which I never got to thank you for two weeks ago when you called me an asshole, that was really nice of you. Now if this title is going to regain its prestige it is going to need to be cleaned, so I'm going to take a shower. You wouldn't mind if I used your shower would you?
*Mr. Anderson doesn't give Miz a chance to speak.*
I didn't think so.
*Mr. Anderson grabs a towel from Miz's locker and goes into the shower.*
Mr. Anderson: I'm sorry I have a habit of singing in the shower… MIIISSSTTTEEEEEERRRRRR AANNDDEERRSSOOOONN… AANNDDEERRSSOOOOOOOONNNN!
*Miz contemplates on taking action, but Miz just ignores him and storms out of his locker room fuming.*