Tenay: Last week, thanks to Lita, Beth pinned Nattie, so she must be confident going into tonight!

Bischoff: And rightfully so! If Beth was picked to be in the Divas Number 1 Contender Fatal Four Way – she may be the one with a title opportunity Sunday!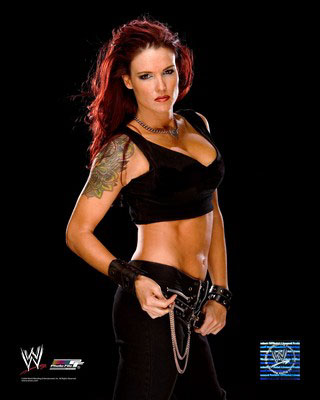 Bischoff: And here comes the Women's Champion, and Sunday, she'll be aiming high, like her partner Edge! Imagine, the Women's Champion and Mr. Money in the Bank as Girlfriend and Boyfriend! Just like old times!

Tenay: That's a hard job to do though. Both have tough tasks, but both are capable of getting the job done.

Bischoff: If there's one thing I do know Mike, it's that Beth Phoenix has a much better chance of being Ms. Money in the Bank than Trish Stratus! She should go back to doing her yoga and leave!

Tenay: Her Yoga is what makes her one of the greatest Diva's of all time! She's a lot fitter than a lot of Divas, and certainly more acrobatic than Beth!

NATALYA THEME (ONLY 4 VIDEOS PER POST)
http://www.youtube.com/watch?v=aN3SjjkgcVU
Tenay: This is the second time these two will face off on Pay-Per-View, and with Lita successful the first time, but the second time will be a lot harder. Nattie will be more determined-

Bischoff: But so is Lita! She relishes being Divas Champion, and will want to keep that championship for as long as possible!
Match 4: Beth Phoenix and Lita (Kelly) vs. Trish Stratus (McCool) and Nattie Neidhart (Layla)


1:52-8:50
Nattie charges at Beth, but Beth sidesteps, and Nattie runs into the corner. Beth then bounces off the opposite ropes, before landing a corner clothesline. Beth then sends Nattie into the opposite corner, before going for another clothesline, which connects! Nattie then stumbles into the middle of the ring, as Beth lands a takedown, before holding up Nattie's legs, and stomping on her midsection.

Beth then pulls Nattie to her feet, before dropping her with a Fisherman's Suplex. Beth decides against bridging her back, and instead tags in Lita. Beth then holds Nattie by the hair, as Lita kicks her in the stomach. Lita then throws Nattie in the corner, before placing Nattie's leg on the second rope, before following up with kicking her on the back of the leg. Nattie becomes groggy, as Lita places her head under Nattie, before lifting her up and landing a Back Body Drop. Lita covers

1................2............Kickout!

Lita then pulls Nattie up, and sends her into the ropes. On the return, Lita lands an Arm Drag, which sends Nattie seated in the corner. Lita then takes a few weeks back, before landing a dropkick to Nattie's chest. Lita then grabs Nattie's head, before dragging her towards the ropes. Lita then falls back, and slingshots Nattie into the ropes. Lita then climbs to the second rope, before landing a Diving Hurricarana on Nattie. Lita covers

1..................2.................Kickout!

Trish calls for Nattie to get the tag, but Lita tags in Beth. Lita pins Nattie's arm to the mats, as Beth delivers a kick to Nattie's midsection. Beth then waits for Nattie to get to her knees, before stomping on her back. Nattie lies on her stomach, as Beth drops a knee on Nattie's spine. Beth then calls for the Glam Slam, and waits for Nattie to get to her feet. When she does, Beth hooks her arms and lifts her up, but Nattie manages to escape and lands a victory roll!

1................2...............Kickout!

Despite the kickout, Nattie is able to make the tag to Trish. Trish then enters the ring, and knocks down Beth with a clothesline. She then dropkicks Lita off the apron, before turning back to Beth, who's now on her feet, and lands Air Canada! Trish then stands, and waits for Beth to get to her feet. Trish then lands a snapmare, before following up by landing an elbow drop.

Beth slowly gets to her knees, but Trish lands a modified bulldog. Lita then enters the ring, and goes for a clothesline on Trish, but Trish ducks, and Nattie drags Lita under the bottom rope. Nattie then lifts Lita up, before landing a thrust spinebuster on the floor! Trish then goes for the Chick Kick on Beth, but Beth ducks, and goes for the Glam Slam, but Trish manages to twist out before she would be lifted in the air. Beth then turns around, right into the Chick Kick!

Tenay: Chick Kick! Beth is done!

Bischoff: This isn't right! Beth deserves to win this!

Trish tags out to Nattie who climbs to the top rope. Nattie then dives, and lands a big splash. Nattie pins Beth

1....................2....................3!

Tenay: Nattie wins it! Nattie and Trish gains some huge momentum going into their matches at Money in the Bank!

Bischoff: They may have the win now, but they won't be getting their hands raised at the end of the night.

Tenay: Well that remains to be seen, but Nattie and Trish has a good a chance of any to win!