Roberts: This match is scheduled for one fall... and it's for the X-Division Championship! Introducing first, from Gainesville, Georgia- he is the number 1 contender to the X-Division Championship... AJ Styles!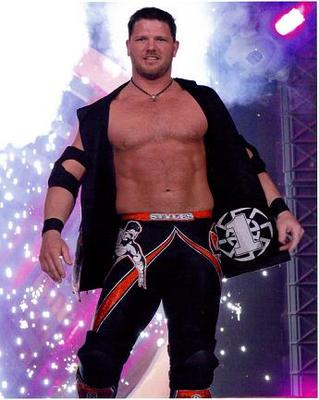 The crowd go absolutely nuts as AJ Styles' music blasts loudly! Styles comes out and stands on the ramp with his sleeveless hoodie on. He grabs his hoodie and takes it off in style to the pleasure of the crowd before doing the P1 sign! Styles makes his way down the ramp and slides into the ring awaiting his opponent.
JR: Look at AJ Styles- he looks so confident, and you can see in his eyes that he WANTS that X-Division Championship.
Bischoff: He can't WANT it all he wants, but he's not gonna get it. That's a fact.
Roberts: And his opponent... he's from Los Angeles, California... he is the X-Division Champion... Daniels!
The crowd's cheering for AJ suddenly turns into loud boos as Daniels comes out. Daniels stands on the ramp with the X-Division Championship around his waist, and an Appletini on one hand. He begins to drink the Appletini before making his way down to the ring!
Bischoff: This man is without a doubt- a future world champion. He's got the looks, the charisma, the ability- he's everything that AJ Styles isn't!
JR: He's talented for sure- but don't underrate AJ. Both men have had their fair share of matches- and AJ has come out on top for the most of them, and I'm pretty sure that we'll see him coming out on top again tonight.
Both men begin to stare at each other- as the bell rings for action!
Match 5: X-Division Championship: AJ Styles vs. Daniels (c)

(Skip at 8:40)
Daniels picks AJ Styles up and puts him in position for the Angel's Wings- but AJ fights out of it, and he crawls through Daniels' legs and he rapidly gets up! Daniels turns around as AJ hits him with a Dropkick! AJ Styles gets up the top rope, and strikes with an awesome looking Moonsault as the crowd pop! AJ goes for the cover!

One!
Two!
Thr-No!
JR: And Daniels kicks out after AJ hit a "phenomenal" Moonsault!
AJ gets up, and he begins to hype up the crowd by clapping. He picks Daniels up, but Daniels pushes him and he runs at him before executing a Huricanrana! Daniels takes a few step backs over to the corner as he waits for AJ to get up- and he runs at him again before hitting him with an Enzuigiri- but AJ ducks as Daniels falls to the canvas! AJ jumps off the apron and goes for a Springboard Moonsault but Daniels moves out of the way as AJ lands face first!
Daniels gets up and begins to laugh to the displeasure of the crowd! AJ is slowly getting up, and he has his back turned to Daniels. He turns around as Daniels goes for a High Knee but AJ manages to quickly move out of the way as Daniels hits his knee on the turnbuckle! Daniels turns around, and AJ strikes with a Superkick! AJ goes for the cover, but Daniels' right leg is already on the ropes!

AJ drags Daniels to the middle of the ring- but Daniels quickly rolls him up for the cover!
One!
Two!
Thr-No!
Bischoff: Damn! I thought Daniels had it there! That was so close!
Both men slowly begin to get up, and Daniels immediately goes for a shot in the face! AJ also replies with a shot as he smashes Daniels' jaw! Both men begin to trade more shots to each other!
AJ!
Daniels!
AJ!
AJ!
Daniels!
Daniels goes for another shot but AJ grabs his hand- and kicks him in the gut before letting go! He positions him for a DDT- but Daniels fights out of it and kicks AJ in the gut before hitting him with a Clothesline! Daniels goes for the cover as the referee counts!
One!
Two!
Thr-No!
Bischoff: This match has been so close- but neither man has been able to get the win!
Daniels gets up and he can't believe it as he begins to get furious! He picks AJ up, and he slaps him in the face as that vicious slap knocks AJ to the ground. The crowd are shocked as they could hear the sound effect of that slap. AJ looks up at Daniels and slowly gets up- before jumping at Daniels!
A fuming AJ begins to repeatedly throw vicious punches to the face of Daniels! The referee tells AJ to get off but AJ won't listen! The referee has a word with him again as AJ looks up at the referee, and Daniels decides to headbutt AJ on the face as AJ falls back! Daniels pushes AJ off him, and gets up- as he gets up on the top rope!
Bischoff: It's time for the BME! Can he do it?!
AJ begins to stir in the ring, but that doesn't stop him from slowly making his way up in the ring. Daniels decides against going for the BME- and he walks up to AJ, but AJ grabs him and hits him with a Neckbreaker! Daniels is on the ground- and AJ grabs both of his legs, before shouting WOOOOO as the crowd shout it afterwards!
JR: WOOOO! Could this be?! Is he going for the Figure 4 Leg Lock?!
Bischoff: We saw him talking to Ric Flair earlier- so obviously he is! Use your common sense JR!
AJ shouts WOO again before locking Daniels in the Figure 4 Leg Lock! Daniels is having no trouble making his way to the ropes so the submission hold can be broken- but AJ is having none of it! He increases the pressure on the hold as Daniels is screaming in pain! Daniels tries to fight out of it- but he can't! Instead, he spits on AJ's face!
JR: WHAT? Why would you do that?
Bischoff: It's called mind games!
AJ lets go off the hold, and he turns furious for the second time in this match as Daniels slowly gets up! He goes for a quick Clothesline- but Daniels ducks, and hits him with a Superkick! He gets up on the turnbuckle, and he strikes with a BME! He goes for the cover!
One!
Two!
Three!
Bischoff: And Daniels does it!
JR: Both men gave it their all- but it was Daniels who came up on top! I wonder where this leaves AJ?!
Daniels gets up, looking exhausted as the referee hands him his X-Division Championship- however Daniels shoves the referee's hand away, and grabs the title before sliding outside the ring. AJ begins to stir in the ring, before turning his face to Daniels. Daniels can't help but to gloat- and he holds his title up before mocking AJ by shouting "you didn't win!" as AJ looks pissed.
Daniels heads to the back, as AJ slowly gets up in the middle of the ring. AJ looks frustrated after the loss- and he begins to put both of his hands on his head in shock. He turns his attention to the crowd as they begin to chant his name- but AJ slides outside the ring and heads to the back, looking devastated.
JR: What a bout folks, that's what the X-Division can offer right there, high quality and energy sapping wrestling! Great stuff!