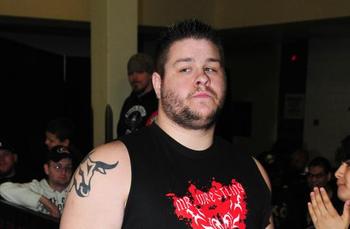 *The theme is a bit familiar, yet different. Fans quickly realize it's a remix as Kevin Steen walks out to a chorus of boos. He is accompanied by Sara Del Ray. The duo make their way out to the ring where upon entering it Steen is handed a mic and even as the fans boo him, he speaks firmly*
Steen: Dolph Ziggler, a world class athlete and a man who one day might become a World Champion but the problem is that is all of that is just a maybe and a possible very distant future. It's not right here and it's not right now.
Ziggler, you come out here and you run down 'Taker, claiming that you deserve to have a shot with him and how you deserve to be Intercontinental Champion? Did you seriously think things through especially know that I'm not through with The Deadman?
*Steen lets out a laugh, as Del Ray simply smiles at the thought*
Steen: Do I need to remind you that it was S.C.U.M who left The Undertaker in a puddle of his own blood? IT WAS MEEE!!!! MEEE!!! and MEE!!!!! Did you not see it was SCUM who beat the bloody hell out of the Deadman?
SCUM is me and I am SCUM, what happened to The Undertaker was all because of MEEE!!!. I am the one who's ready to take The Deadman to a level like never before while you...smirks....simply chose to make a statement out of my leftovers!
*Fans boos as Steen seems to be border line insane and Sara Del Ray takes the mic to speak*
Del Ray: Let's not forget poor little AJ...I bet seeing her "man", and I use that term loosely, can't get the job done by himself was a real eye opener as to how pathetic Ziggler is compared to Steen! He is only able to make an "impact" when his target is already beaten!
That's the difference between Dolph and the boys in S.C.U.M, they are able to dissect anyone on their own because they can and they don't need to wait for any opportunity! They are the opportunity! They are the people guys like Ziggler wait for. The point of all this is that you picked the wrong guy kid and AJ should quit while she's ahead and she gets on the bad side of SCUM for me to deal with her.
*Steen seems to be somewhat stable now as Sara returns the mic to him*
Steen: Thank you Sara, it's always nice to hear from a true woman. Not sure how Dolph could ever settle for such a little whinny, psychotic, crazy kid such as AJ Lee. I mean she's not even a real woman, she's not even qualified to kiss the ground Sara and therefore SCUM walk on! We are gods of wrestling and people will learn to respect SCUM!
*Steen twitches a bit*
Steen: But....back to why I am out here to begin with. Dolph, between the two of us, I am sure it obvious to everyone, who it is that actually deserves to face 'Taker for the Intercontinental Championship and it's MEEEEE! The TRUE "Show Off" of the WWE...The Anti-Christ of the WWE.......Mr. Wrestling!....Kevin Steen!!!
*A few select fans begin a "Fight Steen Fight" chant, which surprises Sara and Kevin*
Del Ray: Seems we have a few "smart" fans in the audience Kevin! So, with that said, we have a request.. Shane McMahon!
We want you to come out here right now and name Steen as the rightful the #1 Contender to the Intercontinental Championship! In fact we want that match in a place where SCUM is gonna thrive when not only Rave and Compton beat RVD and Anderson and I should be beating the crap out of Lita, but Steen accomplishes his goal of destroying The Undertaker and that place is Survivor Series!!!
SCUM is ready to take the WWE by storm and it all begins with Steen becoming the brand new WWE Intercontinental Champion!
Steen: You heard her!!! What SCUM wants SCUM gets! Get out here Shane before I make you come out!
The crowd boos, as the General Manager of Nitro steps out onto the stage, holding the Intercontinental Championship in hand.
Shane: Ladies and gentlemen, I know you're all curious as to why I have the Undertaker's title in my hands. Well, I can now officially announce, that due to the damage caused on the "Deadman" last week, he won't be medically cleared to have a sanctioned title defence within the next 30 days. So as of today, the Undertaker is vacating the Intercontinental Championship!
The crowd explodes with boos.
Shane: As a result of this, we will crown a new champion at Survivor Series. You both have Championship credentials, so you both will be competing for that Championship come the PPV.
Loud crowd boos.
Shane: But there will also be a third man, decided tonight, in a 6 man, Over the Top Rope, Battle Royal! And also tonight, Sara Del Ray makes her in-ring debut! Against AJ Lee! And that, is next!
Steen and Ziggler watches each other, as the camera fades to a commercial.
Commercial