Tyson Kidd: Can you please just shut your mouth?
Crowd cheer.
Kidd: Brock, I didn't rob you at all. Come on man, I knew you were stupid- but I didn't know you were THAT stupid. I had a briefcase which gave me the right to cash in for this world title whenever I desired- and I chose the right time to cash it in.
If you were in the same situation as me, you would have done exactly the same thing- and you know it. I promised the crowd before King of the Ring that I would leave a winner- and I would defeat Edge, but I went onto break that promise. But then- I realized that there was one way I could gain my momentum back- and that was by cashing in my briefcase, and winning the title.
See, at first Brock- I thought you were a straight beast who doesn't take crap from anyone. Someone who always conquers any obstacle in your way. Someone who's given a task, and completes that task. But instead Brock, you proved me wrong. Because the only thing you did prove to me...
Was that you're an arrogant bastard who needs putting down.
Crowd cheer.
Kidd: Brock, I am on a roll right now- and if you really think that I'm going to stop my run of form, then you must be delusional. Trust me Brock, I'm not playing games. Brock, if you're going to face me at Money in the Bank- remember one thing. Tyson Kidd isn't going to play Mr. Nice Guy.
Crowd cheer as Kidd grins.
Kidd: Because that is exactly what I have been doing before Summerslam. Despite coming out on top in all my recent matches, I haven't been aggressive enough. When time passes each day, you learn Brock. I've learnt many things, and one of the things I've learned- is that hunger is the key to your progress.
And believe it or not Brock, I am ever so hungry to kick your rotten ass at Money in the Bank.
Crowd cheer.
Kidd: And you know what they say Brock, you've got to-
*Before Tyson can get another word in, Brock Lesnar swats the microphone out of Tyson's hand. Such a rude gesture earns him a heavy dose of booing from the crowd but he couldn't care less. Right now, his attention is solely on Tyson Kidd.*
::Brock Lesnar::
"Here's something that you don't realize, Tyson. I don't have to do a damn thing except show up at Money In The Bank to win back the title that should have never been yours to begin with. You want to talk about being on a roll? Please. Beating up a crippled man doesn't make you anything but a damn scavenger. That's the only reason you're even in the title picture right now. You pick on the bones and marrow of a weakened opponent instead of someone who's at their best. That's the only reason why you wear MY World Heavyweight Championship which I EARNED by beating three men in one night including Edge. I proved my dominance to all comers on Nitro. Undertaker, Edge, Shawn Michaels, Stone Cold, Mr. Anderson and The Rock. No one was safe from me and I proved it by taking down all of Nitro's top talent while all you've done is just get a fluke victory over me and win an insignificant rubber match against Edge. Your reign as champion doesn't mean a damn thing until you've beaten the best in this business one on one and like it or not, that's me. At Money In The Bank..."
*Brock stops for a second as something about the name of the PPV amuses him enough to make him chuckle.*
"You know, it just dawned on me how sweet my victory is going to be come Money In The Bank. You see, I don't know if you believe in karma or poetic justice or any of that crap, but your comeuppance is finally coming and it's going to be in the best way possible. Not only do I get to beat you for the World Heavyweight Championship but I get to do it at the PPV that hosts the match that nearly cost me my career thanks to you. I get to rewrite the wrong that you did to me at King of the Ring by sitting atop my throne where I belong once I take back what's rightfully mine. I don't care how much conviction, how much guts, how much will you have. That *bleep* means absolutely nothing when you're facing me. Unless you plan on disqualifying yourself or getting counted out, you're not getting away with that belt. On a normal day, I'm a machine. I don't take victories against opponents as personal because it's just what I do best. But you, you're the first person in a loooong time that's pissed me off so much and taken so much from me and that's only going to stack the odds in my favor. You'll be on the receiving end of the biggest and most brutal beating of your entire life. I hope that's what you're hungry for because that's the only thing you'll be getting; that and a huge plate of disappointment and after you're done eating it, you'll be sure to think twice about crossing Brock Lesnar ever again. But since you're so damn hungry, I say that we don't wait for Money In The Bank..."
*Brock takes off his workout jacket and flings it to the ground.
*
"We settle this right here, right NOW!"
Tenay: No Shane, we don't want to stop another fight! We did this enough before Summerslam!
Shane: Hold up, hold up, you guys don't want to fight now. You can do that at Money in the Bank. And tonight – in the main event.
The fans have voted for tonights main event – courtesy of WWE.com, and tonight will see Brock Lesnar, Edge, and... Dean Ambrose, versus Tyson Kidd, Mr. Anderson, and – providing he is fit enough to be here after his helacious match at Summerslam, the Rock. And not only that, but there is a stipulation.
TLC – pinfalls and submissions are legal
Super huge crowd pop!
Tenay: Wow! A TLC MATCH!
Bischoff: YES! It's a match made for Edge!
Tenay: And one Tyson Kidd beat him in at Summerslam.
Shane: This is your chance to send a statement to one another before your championship showdown, have a fun night.
Bischoff: This is why Shane is a great GM! He gives the crowd what they wants!
*Shane goes to the back, as Brock and Kidd goes face to face, before Brock smiles, and leaves the ring*
Commercial
Tenay: Before the break, we heard news of a huge main event
Bischoff: The first TLC match on Nitro ever – and it should be fantastic!
Tenay: Next up, we have the World Tag Team Champions – the All American Perfection, up in action against a team who narrowly in the tag team battle royal.
Bischoff: Easy win for the All American Perfection. How long since they lost a match as a tag team by pinfall or submission? It's been a while.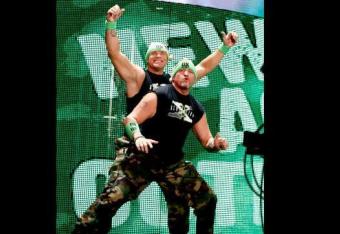 Bischoff: For all their eliminations, they teamed together with DX, their old friends. They can't get the job done, just them two.
Tenay: They beat Cryme Tyme at Great American Bash, and are multi-time tag team champions, unlike your beloved Cryme Tyme
Bischoff: But add in the fact Cryme Tyme has charisma, athleticism, natural talent, chemistry. They're a lot better in comparison.
Tenay: Dolph Ziggler and Jack Swagger have held those championships for several months now – aside from the newly christened Womens Champion Lita, they are the only champions to be the only holders of the title since the re-branding of the WWE.
Bischoff: They're yet to lose on Nitro, and when the titles are on the line, they cannot be beat!
Tenay: That remains to be seen. They still have to defend against the Kings of Wrestling, who interfered in their match against the United Kingdom on Raw.
Bischoff: That was an absolute travesty. They lost by DQ when they had the match won! But with Vickie Guerrero here – anything's possible!
Match 1: New Age Outlaws vs. All American Perfection (Ziggler/Rock – Swagger/Austin)
7:06-14:48