*The video package comes to an end and once again, the booing gets louder than ever before as Brock takes his time to revel in his past glory.*
"So not only do I have experience in tournaments, I've also come out ahead in every single one of them I've been a part of. And I'm glad that the commentary team brought this up last week. Never have I been beaten one on one since joining Nitro except for that time that Tyson robbed me of my championship when I could barely stand on two feet. But that's not even the best part. Not only do I have the experience and the all around ability to kick anyone's ass, that's put in front of me, when I win this tournament, I get a one on one match for my World Heavyweight Championship. You see, it took two men teaming up on me to keep my hands from that belt at the Great American Bash. And now, I finally get the one on one rematch that I should have gotten months ago. But whether it's Tyson Kidd or Edge that winds up champion, I don't give a damn. BOTH of them played a part in screwing me over which means that both are getting the ass kicking of a life time once their three stages of hell are done. But let this be a warning to the two of you. Your pansy ass Three Stages of Hell match? That won't mean a damn thing once I get my hands around your throat. That match will feel like a skip through a sunny meadow as I ram my fists into your ribs. So you know what? You two might as well go out of your way to lose that match because not only will you be losing it to me, the rightful World Heavyweight Champion, but you'll be in for the worse beating of your entire life. I promise you that."


Tenay: It's hard to argue here with Brock! He's the one who won the World Heavyweight Champion just a few short months ago!
Bischoff: Don't forget, he's also the most successful man outside of the WWE, and he's a UFC Champion! In UFC, even 'Taker wouldn't stand a chance, but Brock conquered it!
Tenay: Regardless, Shane is here, but what has he got to say!
Bischoff: Perhaps we can see who Brock's opponent is now?
*Shane steps out on the ramp, and looks on at Brock.
*
Shane: Brocky boy! I have some news for you! You won't be in a triple threat match tonight! No! Last week, you all saw Tyler Reks and Kevin Steen abandon the tag team main event I made! They fought into the crowd, and they damaged the backstage area. Because of this, both of these men are NOT in the tournament!
Instead, Shane O'Mac here, has made an Intercontinental Championship match. Tyler Reks and Kevin Steen will face off one-on-one, and it's Last Chance Saloon for Kevin. If he's loses, then he will not get another Intercontinental Championship match, whilst Tyler holds the championship.
But back onto you Brock, you know you're battling one-on-one then, but I bet you'd want to know your opponent. Well then, I've decided that because of the personal problems you have with this man, and the personal problems the other two men have with each other, Brock Lesnar will face... THE UNDERTAKER!
*
Huge crowd pop
.*
Therefore, later on, Mr. Anderson will battle the man who's politically, not his best friend, Randy Orton! But, Brock, you're in action next!
Tenay: Brock vs. Undertaker! With a SummerSlam match on the line!
Bischoff: Not only that, but we will also see a title match tonight! What a Nitro this is shaping up to be!
Commercial
Tenay: Well as you see Brock Lesnar is in the ring, waiting for his opponent tonight. If Lesnar can win, he will move onto a Number One Contender's match for the World heavyweight Championship at SummerSlam, and his opponent for tonight, The Undertaker!
Bischoff: And these two know each other so well, this is going to be a great match. But Brock Lesnar, I mean he is the former World Heavyweight Champion, he knows what it takes to get there, he is my choice here.
Tenay: Don't ever count out The Phenom. Brock has been there, but Taker has as well, and if not been there more. Taker is undefeated at Wrestlemania, former champion. Taker has done it all in this business.
Bischoff: Taker just isn't at that same level any more Brock is hungry to get back there, that title is rightfully his, and Brock right now is on a level of his own.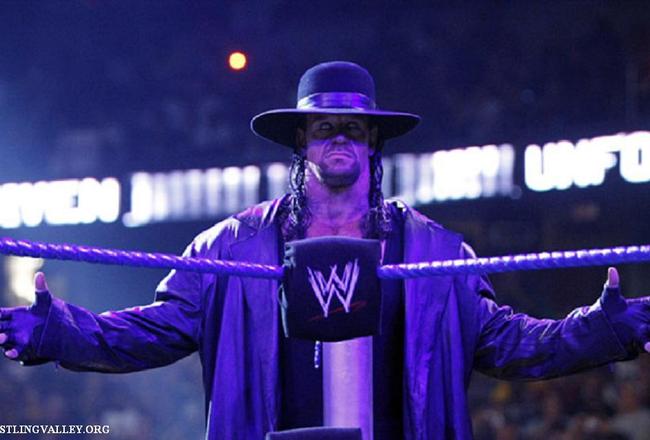 Tenay: Undertaker has shown he can rise to the occasion, and he can put fear in any opponent of his. Especially with such a chilling entrance like this.
Bischoff: I have to say, you don't get matchups like this on cable television too often, what a move by Shane McMahon to have this tournament. Just like the Nitro of old!
Tenay: Well the winner of this match will face the winner of our other semifinal match-up tonight, Randy Orton and Mr. Anderson, so let's get this show on the road