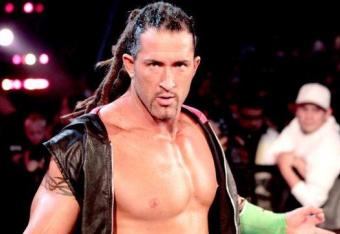 Reks appears on stage interrupting Mr. Anderson, who does not look pleased at all by the interruption as the Intercontinental Champion now enters the ring and stare across to Lesnar and Anderson before being handed a mic by a nearby stagehand and chants of Wrecking Ball invade the arena, to which Reks confidently smiles and waves for the crowd to tone it down for him to speak

Reks: I'm sorry Anderson, but if it's anyone's time right now, it's mine!!!


Crowd cheers and briefly resume their Wrecking Ball chants

Reks: See, Lesnar has had his time. He's lost that edge which made it so that he be feared when on the hunt to become or actually be the World Heavyweight Champion. So why he's out here begging for another shot at the gold is beyond me and these fans here tonight. Let's ask them, do you want to see Brock Lesnar fight again for the World Heavyweight Championship?


The infamous NO! NO! NO! chants erupt across the entire arena as Lesnar looks irate

Reks: There you have it, Lesnar. Your time is over and these fans don't want anywhere near the gold anymore, so maybe you should listen to them. Now Anderson.....


Anderson looks towards Reks

Reks: The man who's on everyone's radar. Including mine. See you're like me, you're looking to go further up in the WWE's ladder of success and become the World Heavyweight Champion but here's the difference. I'm going to plow through anyone that gets in my way.


Fans cheer with great emotion.

Reks: And as much as I respect you, when a shot at the gold is on the line, I'm ready to go through to anything to get it. If I become one of the few people in the WWE history to become the holder of both the Intercontinental and World Championships, that's just a plus.

I already said SummerSlam, I make my mark in the wrestling world. I'm known as The Wrecking Ball and come SummerSlam you'll know exactly why.




Randy Orton waltzes out from the back, to a chorus of boos. Orton walks down the ramp, glaring at the three men. He walks around the ring, where he is handed a mic. He proceeds up the steel steps and into the ring, as his music fades.


Orton: So, who decided to have the party and not invite yours truly?


The fans just boo, as Orton smirks for a second, but then goes back to scowling.


Orton: It would appear as though you three think you deserve a title shot. Now, while I may be known as the Legend Killer, and I may have been dispatching my own form of justice lately, it doesn't change the fact I've kept an eye on the title picture. What's better than a legend killer? A legend killer who is the World Champ.

Bischoff: Damn straight!

Orton: Now, do i think any of these men in the ring deserve a shot at the title? You bet your ass I don't. Look at Brock. A former WWE and World Heavyweight Champion. The man who got beat by the pint sized pipsqueke to lose the title in the first place. Seriously Brock, what happened? You were the guy who, when your music hit, people worried about you coming out and just annihilating them. Now, when people here your music, your lucky if they don't fall asleep. The only thing you deserve Brock, is a pink slip, not another shot at the title that you wouldn't win even if you got what you don't deserve.

Tenay: if I were Randy, I'd be careful what I'd say to Brock!

Bischoff: What are you talking about? This is Randy Orton we are looking at. He doesn't fear anyone!


Orton turns to Anderson now.


Orton: Oh yeah, the resident asshole. Let me put this in a way that you might understand Anderson. You, are on this level. *
Orton puts one hand out low
*, and people like myself, are on this level *
Orton raises his hand considerably higher.
* To even be worth a title shot, you've got to be at my level. No see, what is more at your pace is the Intercontinental Championship. Something that no one gives a crap about, and wouldn't miss if it wasn't around.


Reks is glaring at Orton.


Orton: Oh, I'm sorry, did I hurt your feelings champ? You come out here, thinking you would make a good challenger for the World Champ. Well, "wrecking ball", let me give you a dose of reality. You are a good Intercontinental Champ, yeah, I said it. I can recognize some talent when it's shown. That is where it ends though. That is all you will ever be good at. Hell, maybe if you find the right partner, *
Orton looks at Anderson
*
, or the right asshole, you could be a good tag champ, but you would never be a good World Champ. The day you become World Champ, is the day this company goes to shit.


Orton just smirks.


Orton: No see, what this company needs, what Shane needs, is a champ who isn't the size of a girl scout. A champ who isn't some fluffy teddy bear
*
looks at Lesnar
*
. A champ who isn't a a complete asshole, or a champ that is a sub par. No...they need someone who is a former World Champ, someone who has shown he has a mean streak, and is willing to do the dirty work that no one else is willing to do, like eliminating legends. Mark my words, two things are going to happen. I will get a title shot and become the World Champ, and I will be the man that finally ends the Undertaker. Now how is that for....