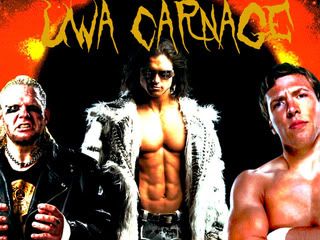 Theme: "Unholy Confessions" by Avenged Sevenfold
-A video recap of Never Gonna Stop II is shown
John Morrison, still the UWA Champion makes his way out to the ring
Morrison says that last Saturday night he did what everybody told him would be impossible
Morrison says that last Saturday night he did what only a champion could do.
Something only HE could do
Morrison says that last Saturday when he pinned Raven, Vamp, and The Undertaker all at the same time
He proved himself the TRUE and ONLY UWA Champion!
Vamp makes his way out
Vamp says that Morrison may have been able to pin him after 2 others helped him
But there's not a chance in hell that Morrison could beat him tonight!
Morrison says that if Vamp can beat him tonight one on one he'll give him a title shot next Saturday!
-Lance Hoyt, the new UWA TV Champion, is with JB
JB asks Hoyt why he turned his back on Shawn Michaels before Never Gonna Stop?
Hoyt says that he's a competitor and sometimes that can become a problem
CM Punk walks up and says that the 2 of them have a lot in common
Hoyt looks at Punk and says that they have NOTHING in common
-Bubba Ray Dudley beat MVP ar 6:09 by Pin
MVP missed the Playa's Boot
Bubba Cutter to MVP for 2
MVP went for the Play Maker but Bubba reversed into the Bubba Bomb for the win
After, Bubba gave Devon the Klique hand shake before giving MVP a 3D!
-A photo collection of the AMAZING match between Rob Van Dam and CM Punk is shown
A video of the steel cage match is shown as well
RVD turned out to be the unlucky one to be fired
Tonight RVD address' the UWA
-UWA X-Division Champion Bryan Danielson is with JB
JB asks if Jeff Hardy will get another X-Division title shot?
Danielson says not unless he earns it!
-Jerry Lynn beat Sunjay Dutt at 5:51 by Pin
Tornado DDT to Lynn for 2
Cradle Piledriver to Dutt for the win
After, Jeff Hardy made his way out and nailed Dutt with a chair!
Lynn slid out of the ring
Twist of Fate to Dutt!
Jeff's going for the Swantonbomb but Jay Lethal runs out and stops him
Jerry Lynn grabs the microphone
Lynn says that Hardy had his shot at Danielson and he blew it!
Lynn says that he doesn't care about Hardy, Danielson, Lethal or any body else but him!
Lynn says that he was X-Division before any of them!
Lynn says that he will be the FACE of the X-Division!
-John Morrison is getting ready for his match when Kaz walks in
Kaz congratulates Morrison on retaining his title
Kaz tells Morrison to be careful tonight
-Raven beat Paul London at 5:18 by pin
Missile dropkick to Raven for 2
Raven Effect DDT to London for the win
After, Raven screamed that he'd been robbed!
Raven screams that the domination will come!
-The Motor City Machine Guns are in the locker room
Shelley says that they're the greatest tag team to ever live
Kevin Nash walks in
Nash says that between the Klique and the Guns they've put him in the most awkward position ever
Nash says that from now on the Guns are on their own
Nash says that they don't need him
Sabin says that the advice Nash has given them will always be remembered
Nash says that he HAS done one last thing for them
Next week The Guns face the Klique one more time
-Edge makes his way out to the ring
Edge says that last Saturday Christian Cage was able to beat him
Edge says that like always he got the last laugh!
Cause now he's got a UWA title shot anytime anywhere
Edge says that next week he's going to get his hands on him!
-Angle and Orton show up backstage and run into a producer
Angle asks the producer when they go on?
The producer looks at a sheet and says that they're not on the card
Angle gets pissed and throws the producer into the wall
Orton says that this is bull
From behind comes Abyss!
Abyss destroys Orton and Angle!!
James Mitchell comes up and laughs and tells Angle and Orton they don't need to be on the show now!
-The Undertaker and Kane beat LAX at 10:47 by Pin
Spike DDT to Kane for 2
Double Big Boot to Hernandez for 2
Hernandez was able to get Undertaker up for the Border Toss but got caught with a Chokeslam by Kane for 2
Tombstone to Homicide for the win!
After, a double Chokeslam to Hernandez!
Undertaker began to pound on LAX
-Rob Van Dam makes his way out to the ring
RVD says that he's had a hell of a career
RVD says that since he's joined the UWA he's regrouped with old friends, and he's made new enemies.
RVD says that this is a sad sad day for him
RVD says that nobody should fear though
Cause RVD maybe gone for now
But he promises that CM Punk is going to pay some way some how for ending his career!
RVD says that this isn't goodbye...it's see ya later!
The fans all chant "please don't go" and "one more match" as RVD does his signature thumb pose.
RVD walks up the ramp and to the back
-Matt Hardy and Shannon Moore are in the back
Matt says that it's awesome they're finally getting a tag team title shot
Shannon says that it's long over due
Triple H and X-Pac walk up
Triple H asks if they're seriously excited to have to face the most dominate team in the history of professional wrestling?
X-Pac says that nobody has been around longer then the Klique
Moore says that they'd be more then happy beat the most dominate team in wrestling
Moore says that they can't wait to face the Motor City Machine Guns
X-Pac and Triple H attack
-John Morrison beat Vamp at 5:09 by DQ
The two instantly started brawling
Vamp nailed a huge clothesline to Morrison
Vamp locked in the Triangle Choke
Morrison was able to use his legs to get to the bottom rope
Vamp refuses to break the hold
The referee DQ's Vamp!
Vamp still has the hold on
Blood from Morrison's mouth drips on Vamps leg
Officials all try to break the hold but nothing
Morrison's body is purely limp
Vamp finally breaks the hold and looks at Morrison's lifeless body
Vamp chuckles and cockily kicks Morrison in the head
The entire production team and medical staff all run out to help Morrison
Heyman and White are out and tell Vamp to get his ass to the back now